Pool steps are using for fulfilling so many purposes. Some of them for family fun or private purpose and some others for crowd fun that means for the public purpose. It implies, they should definitely come with versatile shape, size, design and other features.
Table of 3 Best Above Ground Pool Steps
On the other hand, this condition may give a hard time to any pool buyer, no doubt of that. If you don't know some of the different types of pool steps, and how each of them fulfills the buyer's intents, then you will regret it.
To help you in pool steps purchasing, we sorted out the top 12 above ground pool steps. Here in this article, we will show you how each of the benefits its user and while reading all of them, you will find yours.
List of Top 12 Above Ground Pool Steps
There is no specific best above ground pool that will fulfill everyone's demand. Instead of that, it has to be versatile and to let you know how versatile they will, we will show you the review below
1. Confer Plastics Access Pool Step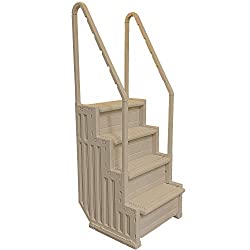 Our first pool step is Confer as it is the pool industry leader now. This Confer Plastics Access Pool Step is designed for flat bottom pools. It is a great choice when your pool has non-deck applications. The width of its step gives you ample space and the flat non-skid step surface ensures that you won't slip out from there. You know the pool often gets messed up and our feet get slippery so the steps should be slip-resistant, and so the non-skid surface nailed it.
Key Features
It allows easy entry and exit as the steps has ample space to get in alongside two sturdy handrails
It is secure due to the adjustable mounting brackets fasten to the deck and keep one safe and sound
No chance for algae growth as it has side openings that prevent doing so
The non-skid step surface ensure slip-resistance and enhance mobility safely
It can take a good amount of weight that is up to 400 pounds
The Confer pool steps allow you to dive to the downhill of your pool up to 56 inches, which means the pool steps themselves have 56 inches of depth. One of the issues of a pool step is with the growth of algae, this is noisome and makes the step slippery. But the access step's side openings eliminate algae to grow. After that, the steps will stick to the pool reliably as it includes mounting brackets that fasten to the deck.
If you are a heavyweight swimmer, no worries to put your step on it, as it can take the load up to 400 pounds. It is easy to assemble all you need to do is to snap them together and to accomplish it, you may need to have 40 lbs of sand.
2. Confer Curve Above Ground Swimming Pool Steps
Confer Curve pool steps come with an amazing curved design, that fits nicely into your pool. It doesn't come with the overly steep step and hence it is good to go for all ages of swimmers. The base is curved and perfect, we believe as it improves the overall stability on the step and easily dives into the pool. When you set it up make sure the pool would have depth up to 47 inches to merge this height.
Key features
This 4-step staircase comes as molded and curved form and the depth with 47 inches
The adjustable base pads snap with the bottom and allow stability to the slightly uneven surface
Oversized deck mounting brackets are 24 inches long and easily snap to the deck and improves mobility
To avoid floating in the water, both of the sides are filled with sand or pea and let it submerges into the pool
Safe and secure with the chemical resistant resin holds up to 400 pounds of weight
One great attention of it is overly stable and firm, so it can weigh up to 400 pounds, which is more than expected. Confer above ground pool steps ensures safety to the best level hence the adjustable mounting brackets come to fit with the deck and the base pads aggravate the stability with the bottom surface.
Not only the surface is super strong to endure your weight a lot but also, the step is a bit width so you can easily get access to the pool. The handrails are curved with dual-chin that extends mobility. The chemical resistant resin lets the walker viable to get inside the pool very gently and safely, with no chance of losing one's grip at all.
You may explore Top 20 Above Ground Pool Ladders and Steps Reviews
You must explore 10 Best Pool Vacuum 2023 – Pool Vacuum Reviews And Guide
3. Confer 6000X – Inpool Ladder for decks
Confer 6000X is a great choice for pool lovers! When it arrived at us, it took one of us and 30 minutes to set it up and bring it to our pool. The good thing is about filling the sides with just water, no sand is required to do so and it doesn't float at all. The main attention of its depth in your pool, which means if you have great depth then this will work.
Key Features
Confer ensures it to be adjustable all sizes of pool in between 48″ to 54″ deep pool
It is way much durable and never gets rusted or corroded for the resin finish
It weighs a lot and a grown man with 300 pounds can easily ride on this
Easy to assemble and take just half an hour and mounting with the deck is just a one-man job
It is not overly steep neither flat so it gives you a comfortable downhill to the pool
It is fully adjustable for a 48″ to 54″ deep pool and the steps are not steep at all. Again, it seems durable to us due to the long-lasting resin not easy to get rusted or corroded at all. This pool capacity is good and it takes 300 lb weight.
The ladder is amazingly adjustable to the minimum and maximum height limitations. So, you don't need to worry about the depth of your pool as it is going to be perfect for all pool sizes. When you finish the deck than to assemble the ladder takes just 15 minutes.
4. Above Ground Swimming Pool Step to Deck
Forget the deck and just feel comfy with the ladder and step combination, sounds good? Then this pool step would be a great product for you right away! The steps have so much space for you and let you very easily in and out to the pool with the rugged shape construction. And, these rugged constructed steps are made of polyethylene and easily fit to the pool surface which depth is up to 54″.
Key Features
A deckless pool step comes with a combination of steps and ladder altogether
It has a rugged construction step that is made of polyethylene
Ensure chemical induction with the water circulation and give no chance to grow algae
The top flanges easily adjusted to the bottom and improve the stability
A man with his 350 pounds of weight safely onboard to the steps and dives into the pool
The double handrails spread out and join the steps, and the steps are big enough adopted the slip-resistant feature. Fortunately, the design of the steps meets the NSPI standards for that it is safe swimming equipment for you. When it arrives in you, you find the ease of assembling within the shortest time and then accommodate the weight up to 350-lb.
Later on, the amazing attention is to have the perforated system so it ensures the water circulation with the chemical. As a result, the water won't give any stand to algae to grow in your ladder or steps. The steps come with the top flanges anchor that secures the deck for adjusted and firm placement under the pool. By the way, remember to fill the sides with the sands in order to get more stability of it under the pool.
5. 30″ Ocean Blue Mighty Step for Above Ground Pools
Your selection of a pool step will be branding you among the pool lovers not for the perfect safe preference only also, the design has a great role of it. Ocean Blue Mighty pool steps for above ground pool is one of the astonishing pool steps and definitely blows your mind with the curved design and the handrails that go across the edge of the third steps. This type of unique design makes one's pool more attractive.
Key Features
It is applicable for the pool which sidewalls are between 48" to 54"
It is good to go for the flat bottom of above ground pools which sidewalls are in between 48-54 inches
It can easily deal with the weight of up to 400 pounds
The handrails are made of plastic but durable at the end the deck mounting brackets improves the stability
The 30 inches of wide steps go into the depth of 45 inches pool, which is quite satisfactory and versatile for many pool sizes. It comes with a durable plastic body starting from the ladder, handrails, and steps and the foot base. We find the steps less steep and flat and more importantly they are slip-resistant.
The handrails come to fit in your arm easily and are adjusted with the deck mounting brackets. You can't underestimate this plastic build ladder steps as it can weigh up to 400 pounds, that is incredible! You can make your choice either fill the side slots either with sand or without it especially when you are worried about lifting it up at the end of the season. Or, if you fill sand then it takes a little effort of 2 hours.
6. Leisure Accents Deluxe Spa Step
Deluxe Spa Step is for a hot tub-sized pool with its dual step body construction. The good thing is it is waterproof and never catches algae at the same time UV resistant. It brings the perfect shape and size for a pool that has minimalistic depth up to 36 inches. It is made of high-quality plastic and sturdy enough to weigh up to 175 lbs.
Key Features
The dual steps Deluxe Spa comes with the heavy-duty plastic construction
It takes a less hard time to assemble and time takes only 20 minutes
Only steps no hardware which makes it easy to maintain and affordable
It is protected by the UV and water and the surface are made of resin
Easily put together at any surface the depth cover like 36 inches
The only con we found that it definitely needs a rubber mat as it doesn't have so. However the steps are sturdy and safe, no worries about that. When the big pool steps take hours of sweat to assemble them, this set of stairs is the easiest choice for you. You can easily put together this, and all you need just 20 minutes max. There are three different color choices like the Grey, Beige, and Redwood so pick one of yours.
Not only the assembling but also, the maintenance won't give you the hard time, all you need to clean is a piece of soap and a full jug of water. Leisure accents spa step comes with less hardware and more fun. No handrails, no foot base, no bracket adjustment and no other hardware which makes it extremely affordable.
7. Confer Plastics Entry System
Confer Plastics Entry System comes with a latch and lock system, which is for those who want to lock it occasionally. So it implies, when you have naughty kids and don't allow them to the pool these fence system steps would be handy for you. Although it is made of plastic, it seems sturdier and doesn't sag easily with overweight or load.
Key Features
It comes with the lock system gate that intrudes the unwanted swimmers to get in
It offers perfect side slots to limit the water flow and deter the algae to come in
Pool depth is between 48 in to 52 in and so it is versatile for many pool shapes
Perfect for a flat bottom pool surface and the steps can weigh up to 380 Ibs
Made of plastic along with the resin bridge system which snaps with the steps and handrails
The assembling work required power tools as the handrails and steps are molded each other and require pliers and a saw. If you are lazy to do so, you can stay behind. You can see the slots on the side of steps that restrict the water flow at a minimum level eventually eliminates the chances of algae growth. It is only recommended for the flat bottom pools and won't set it on an uneven surface.
Now, let's settle the depth of the pool and see how it works. Well, these steps are nicely fitted on a pool which depth in between 48 into 52 in. But never put this on an Intex style pool. By the way, the step comes with blue treads that increase the stability to a great extent.
8. Blue Wave NE100BL Wedding Cake Blue
Blue Wave NE100BL wedding cake pool steps are a great choice that can bring an aesthetic outlook to the deck of your pool. It has different sizes of steps and the second one is bigger than the first and so on. It may not withstand heavy movement as the handrails are not as performing as the steel would be. Hence it is recommended for the pool for 3 or 4 participants. However, the handrails won't break out as it is made of Polyethylene, which is a popular add-on in many pool steps.
Key Features
It comes with the single handrails screwed with the deck and made of plastic
It can lift too heavyweight for sure, that is up to 500-lbs
Ventilated with the holes where the water can circulate and eliminates the chances of algae growth
No need to fill the sandbags as this wedding cake can manage floating without it
Each step comes with a different shape and size out of four and all looks glossy white color finished
Due to the use of the right material, it gains more power to withstand the weight of 500-Ibs. If you are suck of filling out the sandbags to stop the steps from floating, then you would love this, as there is no need of filling for avoiding floating in the water. It can do this without the feature of sandbags. While buying this make sure you have a deck as it is a free-standing pool so you can use it for the poolside only.
So this may clear to you this wedding cake blue is for the pool steps for above ground pool. It doesn't have the latch and lock system or a deck, and this one will submerge in your pool and the handrails would be screwed with the outer deck.
9. Wave NE110WH Wedding Cake
Looking for the best-designed ladder steps for your next pool party? Blue Wave NE110WH wedding cake pool steps would be the perfect match for you as it has already gained the attention of a number of pool enthusiasts. The white finish glossy color plays a great role to make it looks aesthetic to its viewer.
Key Features
It comes with the slip-resistant polyethylene construction that saves from the UV ray and allows heavy use
Ensure the extended weight capacity up to 500 Ibs as it is injected by the molded ABS fabrication
Each step comes with a different shape and size out of four and all looks glossy white color finished
It eliminates the need for ballasts and anchor weights that ease the installation process
The steps surface are ventilated which decrease the chances of algae growth and accelerate the chemical circulation
And then the shape is just blowing the viewer's mind, not a traditional flat or curved design, rather each step comes with different width like a wedding cake. After talking about the design, let's come to the construction or the build materials of it. The main charm of it is to have the super strong injection molded ABS that is far more durable you can imagine. And, why is that?
Well, the reason is simple because it won't get easily flex or bend like the traditional steps. It looks dazzling and aesthetic but that doesn't mean it is hard to assemble or takes much time to do so. All you need to have just 15 minutes or even less time to finish the assembly work. Again, it is easy to maintain and for that, you can keep it for years.
10. Vinyl Works in-Step Ladder
Vinyl works innovated this step ladder and facilitate its use with so many features. First off, if you are in search of finding the true tall ladder steps for your pool that have more stability and performance then you should aim at this. So, this one is a perfect fit for the pool that has a graving depth of up to 60 inches, starting from 40 inches. That means, if the sidewalls rise up to 5 feet along with the flat surface, this will nice to go.
Key Features
It comes with two deck mount flanges that improve the stability for full step entry
Made of maintenance-free plastic resin easy to fix and the rest of them are of stainless steel hardware
It is for all deep pool surfaces as the ladder adjusts between 46 to 60 inches
It comes with better mounting as include both deck mount flanges that directly mount to a pool deck
The steps can easily withstand the weight of a man about 300Ibs easily
For extra safety and stability, it comes with the 2 deck mount flanges that ensure 300 pounds of load. Among both flanges, the front one easily mounts to the pool deck, however, it needs to assemble. The entry would be steep but the steps ensure stability with the help of double handrails.
When talking about the overall construction, we found that it partly comes with plastic resin and the maximum parts are stainless steel. The plastic resin fits great as it eliminates the effort of maintenance, and the steel part promotes the strength of the ladder.
11. Confer Plastics Spa Step with Storage – Gray
Confer Plastics Spa steps with storage are a perfect deal for those who want to enjoy a spa in their hot tubs. By the way, it is not only a spa step but also, offers the flip away tread that gives you storage. Simple to maintain and easy to assemble make it more popular with spa lovers.
Key Features
It offers a storage compartment that is easy to flip and remove and water won't run inside the chamber
Wide and accommodating space makes it handy to use, and two people sit together and make gossiping
It seems small compared to the ladder steps but can weigh up to 300-Ib easily
The outer layer is constructed with plastic resin what makes it maintenance-free
It comes in two different colors, Grey and Brown that suits the home decor
Don't underestimate its size as it can weigh a lot that is up to 300Ib. It spreads out with good space and you can see it is 3ft wide. The resin finish makes it to a different level of construction and so you will have a little ease with the maintenance, and why it is? Because it makes it waterproof. It may not come with handrails as a two-step spa but it ensures anti-slipping features for the rugged construction.
After telling about the construction, we can't forget to share the color. There are two alternatives in case of color choice, the one is grey and the other is red, both are amazing. By the way, the color would be somewhat slightly different from what you can see on the image.
What to consider to choose above ground pool steps
You can not avoid the essence of pool steps once you are the owner of an above ground pool.
But how to consider so many things altogether? To settle this dispute let's share some of the valuable information with you.
Adjustable height
This is the first and foremost task to know the depth or height of your pool and look for steps accordingly with it. Most of the ladder or steps are between 48 inches to 56 inches, however, some are going up to even 60 inches.
Weights endurance
Not all pool steps' weights endurance is the same. It depends on how many of you will use it regularly. For a big pool space, you expect to have 300-Ibs at least, and 400-500-Ibs improves more stability. For less traffic in the pool and for the small one, the weight capacity would be around 175-300-Ibs.
Safety add-ons
Pool steps should be safe and sound, and to improve this feature you should look to know which suits best with or without deck. When you will look for a non-deck application then the A-frame style is a great choice. The lock and latch system pool is a good choice for preventing unauthorized access to the pool, which means stop entering your naughty kids when you are not at home.
Stability
If you are using a traditional pool steps that is a true wobbler, then it is high time to change with the sophisticated model. But the thing is not necessarily all of them perform well in terms of stability like it won't float or won't move. But an ideal above ground pool entry steps will give you better entry and exit to your pool and keep you safe and sound.
Ladder systems
We have already recommended the A-frame design as it consists of dual handrails at the side of the pool. If you spend good cash on it, you won't find the shaky ladders along with the stable footprint.
Final Verdict
While purchasing any above ground pool steps most of us are more cautious about the assembling part. Yes, the assembling takes so much effort and when winter comes to an end, one needs to lift it up and assemble it once again. Later on, we recommend you choose the ladder steps that come with minimum maintenance.
Thankfully we find Confer 600 for you that is easy to assemble and also requires less maintenance. Furthermore, the ladder is adjustable to the minimum and maximum height limitations. and fit for any depth of your pool.