Tired of cleaning your pool regularly and regardless of your efforts, you wish you could get better results from your cleaning process. Don't worry, because now is the perfect time to kiss your old cleaning methods and buy a pool cleaner for your swimming pool.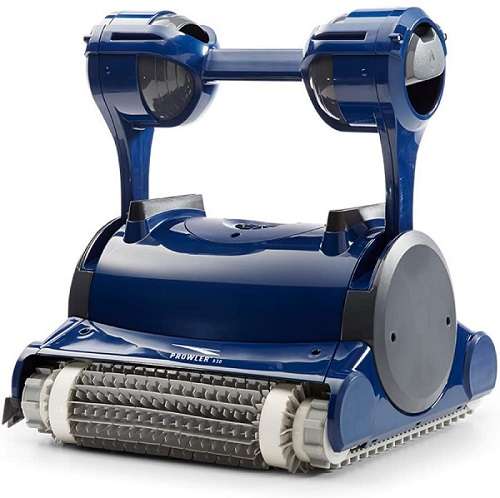 So, the big question comes, how can you tell the best inground automatic pool cleaner from the many available in the market? We got you covered!
Before we go any further, it is worth mentioning that a pool cleaner does an amazing job of removing build-up algae, grime, dirt, sand, leaves, twigs and pollen, etc. It will clean your pool's floor and walls leaving it spotless for a fun and healthy swimming experience.
In fact, pool cleaners will save you hours of work and time spent getting your pool back into its original state. Although you will spend a fair amount upfront for an automatic pool cleaner, users largely agree that it is worth the investment.
We have dedicated ourselves to providing you with the best 10 automatic in-ground pool cleaners, with each showing its advantages and disadvantages. Hence depending on your specific needs, the guide below should help you make an informed decision
How did we compile the 10 Best inground automatic pool cleaner
If you are not accustomed to shopping for the best automatic inground pool cleaner, finding the best one can be a daunting process. You have to consider many factors before making your purchase.
In this regard, we have compiled the long-awaited list of the 10 best in-ground pool cleaners for your residential or commercial swimming pool just for you.
You can be sure that each product here has been well researched, tested and tried at an angle of reliability, durability, general quality, size, etc. Also, we truly dedicate ourselves to giving you a hand while choosing the most reliable pool cleaner in the market.
Best inground automatic pool cleaner: Compare Top 10 At a Glance
Review the 10 best inground pool cleaner 2023(Classic & Latest Model)
Pentair Kreepy Krauly Sand Shark In Ground Suction Pool Cleaner – GW7900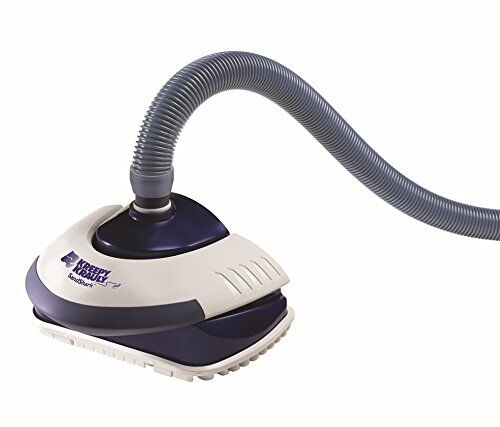 Pros
Comes with a 32-inch hose
Scrubs pool floor and walls, dislodging debril and dirt particles
Its smartTrac steering system maneuvers around ladders, tight corners and obstacles
Its wide body design is capable of cutting a 12-inch cleaning path
Cons
Doesn't clean floor and walls thoroughly in large pools
Looking for the most recent revolution in automatic pool cleaning technology? If you are, here is the Pentair GW7900 Kreepy Krauly that matches your needs. Using a 2-way cleaning action patented design, this machine first scrubs your pool's walls and floor, dislodging even the most stubborn dirt and debris particles with its rubber scrubbers. It then instantly vacuums away all this dirt and contains it in your pool's filtration system leaving your pool sparkling clean.
The GW7900 is capable of a 12-inch cleaning path and quickly cleans fiberglass, vinyl and gunite surfaces in all types of in-ground pools. And with the exclusive SmartTrac steering technology, this machine will maneuver around obstacles, tight corners and ladders ensuring fast and thorough cleaning performance from the floor of your pool to the waterline. In fact, it cleans faster than standard style cleaners thus minimizing any possibility of missed spots.
Click here to view 79+ Buyer Reviews
When it comes to installation, no assembly is required. Simply attach this cleaner to the hose and it is good to go. Once inside your pool, it will do the dirty work of devouring everything in its pathway ranging from sand, pollen, leaves, dirt, twigs and insects to scrubbing away algae, soft calcium deposits and loose scale. It also includes a regulator valve that is adjustable and a free flow gauge that lets you control the optimal cleaning speed to guarantee the most efficient cleaning possible.
It is said that a good warranty cover talks much about the quality of a product. This cleaner comes with a 2-year limited warranty which is good enough for a cleaner in its price range. And you find it annoying to empty bags every now and then, the GW7900 offloads you that burden. Since no bags, wheels and diaphragms are required, you won't even have to worry about replacing them.
Pentair GW9500 Kreepy Krauly Great White Inground Pool Cleaner
Pros
Scrubs your pool using its double rows
Cleans excellently in all pool shapes and sizes
Uses a 15-inch path for quick cleaning
There is an automatic valve that regulates water flow to set an optimum travel speed
Cons
Wears out after a short time of use
Having a swimming pool in your yard is fun but the same cannot be said about cleaning it. However, with the Pentair GW9500, you will enjoy the perfect combination of fun and tech. Having a bristle drive, this machine will clean deep while dislodging tiny pebbles and tough dirt. It will clean and vacuum the in-ground pool and dish, hopper, and incline pool bottoms. Even more, it has a 15-inch cleaning path, meaning that it will scrub, clean and vacuum both the walls and the floors of your pool. For maintenance-free reliability and exceptional performance, their bristle drives are UV resistant.
When it comes to scrubbing surfaces, this cleaner is not biased. It will clean any shape and size of your in-ground pool regardless of whether its configuration type is tile, cement, vinyl, or fiberglass. This cleaner even comes with a 32 feet long hose and a revolutionary design. To spice it up, the Pentair GW9500 is the only automatic cleaner that boasts double rows of directional bristles that loosen dirt and crash both small and large debris. And its light weight makes it easy to transport.
Click here to view 227+ Buyer Reviews
The programmed steering will allow the GW9500 to easily and quickly maneuver obstacles in order to prevent any hang-ups. There is also an adjustable regulator and a free flow valve that lets you control speed to ensure optimal cleaning performance. For easy hook up to an existing vacuum line, this cleaner comes with a vac-door fitting that makes it possible. In fact, this increases efficiency in vacuuming away both large and small debris.
You won't have to be worried about setting this cleaner up because it doesn't require any specialized tools to install it. All you have to do is simply hook this piece of the appliance to a vacuum line and immediately it gets ready to clean.
Pentair 360040 Kreepy Krauly Suction-Side Inground Pool Cleaner
Pros
Fast, thorough, dependable and can last for long without wearing and tearing
Greater cleaning coverage
Low cost operation
Installs in minutes
Cons
Every owner of a swimming pool in their home yard relishes the good memories of times spent in their pool be it for family fun, exercise, occasional relaxation, and for the wild ones there will always be epic pool parties to remember. However, after all these activities pools do collect a lot of dust from blowing wind.
It is for this reason that the Pentair 360040 Kreepy Krauly Suction-Side In-ground Universal Pool Cleaner is one of the most versatile and popular universal pool cleaners in history and of course, over 3 million satisfied customers around the world can't be wrong.
No other pool cleaner comes close to the Pentair 360040 new modern design, owing to its ultra-reliable service and rugged build. Having just a single operational part, this cleaner guarantees you years of faithful service, without worrying you about waning performance or replacement of parts. This cleaner is relentless in its pursuit of debris and dirt. It will traverse the floor and walls of your pool, vacuuming all the debris and dirt, leaving no area unattended. Even more, this cleaner is automatic in its operation.
Click here to view 67+ Buyer Reviews
Designed for greater cleaning coverage, from the bottom of the pool to the waterline, the Pentair 360040 powerful suction makes the removal of both small and large debris a child's play. And when compared to other cleaners, this one has no bags that need to be emptied, wheels, diaphragms, gears or jams to replace.
And the best thing is that this cleaner comes with an automatic regulator valve to control the flow of water to an optimal speed. Its drive float ensures that the cleaner is able to clean the waterline just as it does with the bottom of the pool.
Since no booster pump is required, this means that you will have low energy consumption and less maintenance. Better yet, installing this cleaner is a matter of minutes and doesn't require any special tools.
Kreepy Krauly 360048 Automatic In Ground Pool Cleaner
Pros
Automatically removes debris and dirt from your pool by cleaning the floor, walls and tile line
Doesn't require a booster pump
Has a wide intake that vacuums even large debris
There is enhanced maneuverability, thanks to its turbo action swivel design
Cons
The Kreepy Krauly 360048 is one of the most recognized pool cleaners available in the market. It is a perfect combination of simplicity and power to create legendary suction capabilities that make it easy to use and manageable.
Having only a single operational moving part, the Kreepy Krauly 360048 guarantees you minimal operation cost and dependability over many years. And specially designed to maximize cleaning coverage, this cleaner commands a spotless pool from the waterline all the way to the bottom of your pool.
This pool cleaner will attach to your pool's existing filtration system hence doesn't require any booster pump. And in turn, reducing your workload because there are no bags that need to be emptied. All you have to do is, simply let the Kreepy Krauly 360048 into your swimming pool and let it clean your pool walls, floor, and tile line to give you an amazing cleaning experience.
With the featured regulator valve, you can easily adjust the water flow for the best speed that allows you to achieve an optimal cleaning performance. And regardless of the location of your pool, this cleaner will only require 25 GPM of flow to accomplish this.
The Kreepy Krauly 360048 does not only clean your pool from bottom to top but also does so with a single moving part. This helps to cut down on maintenance while increasing further the longevity and reliability of this machine.
Click here to view 88+ Buyer Reviews
What is even more interesting is that this cleaner doesn't have gears, wheels, and diaphragms that require constant attention. Simply, drop it into your pool without worrying about repair or even programming. This cleaner even comes with a pleated seal design that enables it to work with all pool surfaces for a successful movement in your swimming pool, cleaning both the small and large debris from the walls and floor.
Moreover, the Kreepy Krauly 360048 ensures enhanced versatility while maintaining a simple yet reliable design hence making it the best choice for any pool.
Xtremepowerus In-Above Ground Automatic Swimming Pool Cleaner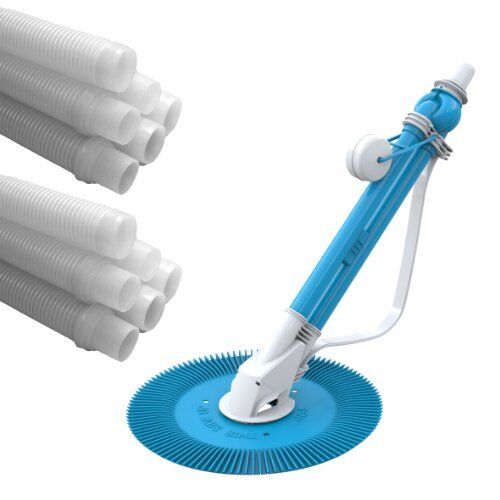 Pros
Requires no electricity
Vacuums in-ground pools of any size and shape
Comes with extra replacement parts
Cons
Some users complained that it doesn't work well for above ground pools
There are many pool cleaners out there to choose from but some of them stand out more than others. The XtremepowerUS (Green) is among the few that speak greatness among its contenders and steps in to make your life easier than it possibly is. With this machine, you will relish every moment of pool maintenance and the best part about it is that you are guaranteed crystal clear pool water. In fact, if you are usually not patient enough, this cleaner works in just a few hours.
The XtremepowerUS (Green) can take up any project, regardless of the size of your pool. It will even clean up fairly fast in large pool sizes. This cleaner is also capable of vacuuming and retaining debris and dust like no other. Moreover, the XtremepowerUS (Green) is quite general and is ideal for both above ground and in ground pools.
Click here to view 36+ Buyer Reviews
This cleaner comes with extra parts in the package. This ensures that you don't wait too long looking for replacement parts when unexpected situations arise. Some of the parts include; vacuum seal, bumper strap roller and disc, footpad, etc. Basically, you will never have to stop in the middle of the operation.
Additionally, is it worth mentioning that you don't require additional tools with this cleaner since it works with the actual pump? Meaning that there are no other extra expenses associated with it. Its vacuum is the main feature that you will need to thoroughly maintain. And for the fact that it doesn't need electricity, you will save up on electricity bills. Moreover, for maximum efficiency, you will require a classic 0.75 HP pump or even that is more powerful.
Hayward DV5000 Automatic In-Ground Pool Cleaner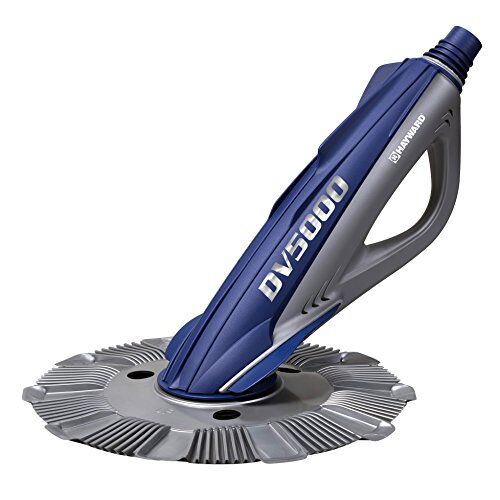 Pros
Efficiently and quietly propels itself via the water, cleaning up debris, twigs, and dirt
Cleans both the pool walls and floor automatically
Includes a 40 feet long hose
Capable of pulling dirt from three intake ports
Cons
Hayward is the most recognized name in residential pool products and it proudly introduces a powerful automatic suction cleaner, the Hayward DV5000. This cleaner is best for in-ground pool cleaning and comes with an innovative sleek design, built with performance in mind.
All you have to do is put the DV5000 in your pool and let it do all the dirty work for you. And regardless of the shape and size of your swimming pool, this machine will leave it spotless. Again, this innovative pool cleaner features an amazingly incredible technology, a single moving part, which enables it to move efficiently and quietly through the water, eliminating all the debris, dirt and even more.
If you like, you can command a cleaner pool every time you rely on the powerful capacities and efficiency of the Hayward DV500. This machine is powered by your existing filtration system to clean your pool walls and floor by pulling all the debris and dirt from the 3 intake ports.
Click here to view 20+ Buyer Reviews
This also allows for quality energy efficiency because no pumps or electricity is required. It is a cinch to install this cleaner, in fact, it should be up and running in less than 10 minutes. The DV5000 is also specially designed for all surface types and includes a 40 feet long hose that is capable of covering pools of up to 16 feet by 32 feet.
There is also a swivel foot pad that offers effortless navigation and guarantees that every corner of your pool will not go untouched. When you use this pool cleaner, you can be sure to spend less time cleaning your pool and more time enjoying it.
stingray In Ground Automatic Swimming Pool Vacuum Cleaner
Pros
Capable of vacuuming in-ground pools irrespective of their shape and size
Doesn't require electricity or any tools
Comes with a 33 feet long hose
Requires at least 1600 ghp to function efficiently
Cons
Frequently gets stuck on the pool steps
You will not get any other machine out there with the same power to clean your inground pool efficiently and a small price tag like the stingray inground pool cleaner. This cleaner will amaze you at how it can automatically clean your inground pool leaving it spotless in a few hours. Thus allowing you more time to have a fun experience and more time in your swimming pool than cleaning it.
Click here to view 7+ Buyer Reviews
Just like most pool cleaners, this one also runs on a single moving part. It comes in a smart design that lets you easily open it for easy maintenance. Better yet, this machine eliminates the hassle of having to replace gears, breaks, wheels, jam and diaphragm, because it doesn't come with any of those parts. Using adequate suction power, this cleaner is able to pick up everything ranging from bugs and dirt to twigs and pebbles.
The stingray attaches quickly and easily into your existing filtration system and also includes a 33 feet long vacuum hose. It is specially designed to cover pools that are 16 feet by 34 feet and for it to function properly, this machine requires at least 1600ghp or three-quarter hp swimming pool pump.
Aquabot ABTTJET Turbo T Jet Robotic In-Ground Pool Cleaner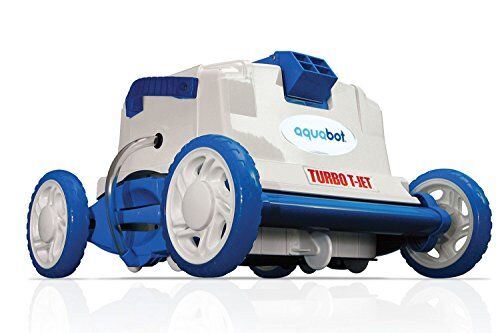 Pros
Compared to other pool pumps, this one uses less electricity
Simple design including a pump motor for suction, propulsion and water jets
Removes much of debris and dirt thus the pool filter system requires less cleaning
Cons
Its power supply doesn't have an adjustable time function
You will love the Aquabot Turbo T-jet for its fantastic job in cleaning your in-ground pool regardless of the shape or surface type. This mid-priced robotic pool cleaner will even clean the waterline, floor, and walls; ideal for a curved pool to wall transition of your swimming pool.
Featuring a powerful vacuum pump motor, the Aquabot Turbo T-jet is capable of providing water jet power for suction power and propulsion required for use by the filter bag filtration system. Even more, there is no hassle in installing this machine since all you have to do is connect to a 120 V power outlet. Its 50 feet long cable comes integrated with a swivel not only to prevent tangles but also to provide convenient power supplies.
Click here to view 137+ Buyer Reviews
Out of the box, this cleaner comes with extra-wide none marring polythene wheels integrated with broad track chassis. This allows it to glide wrinkles, footprints, over liner seams, main drains and practically any obstacle in your pool. It also has its own self–contained filter system as well as patented Venturi jets that ensure good filtration power and an amazing cleaning speed. With this machine, you will be amazed at its ability to cover up to 5000 square feet per hour, blasting stones and debris from every inch of your swimming pool area. This debris sized down to 2 microns, is then filtered and contained in this unit.
Generally, the Aquabot Turbo T-jet is easy to maintain, thanks to the fact that it comes with fewer moving parts. Since this cleaner catches all the debris and dirt it vacuums, it requires no bulky hoses and will not clog up or slow down your swimming pool's filtration system. Better yet, the T-Jet operates on a low voltage power source, thus making it safe to use. And owing to its lightweight design, you can easily remove it from your pool anytime you like.
Aqua Products ABJR Aquabot Junior In-Ground Robotic Pool Cleaner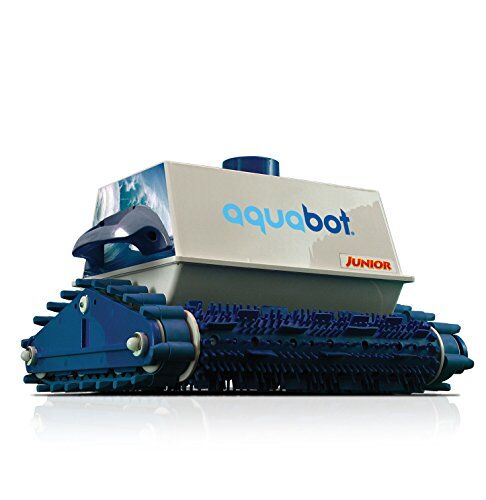 Pros
Doesn't require booster pumps or hoses to clean
Cleans your entire pool including walls and floors between 2 to 3 hours
A reusable self-contained filtration that ensures to remove everything ranging from the largest to the smallest particle
Saves as much as 50% of your energy, water and chemical bills
Cons
Doesn't climb walls all the way to the top
Are you looking for a small yet fast robotic pool cleaner to clean your pool in a matter of few hours? If you are here is a cost-effective, performance proven and a state of art robotic cleaner, the ABJR Aquabqot Junior In-Ground that will clean your pool in a just few minutes. It's a self-contained machine that requires no vacuum poles or hoses and integrates an internal pump, filtration system and drive.
If you like to even systematically clean your swimming pool with reverse and straightforward movements, the internal microprocessor makes this possible. And with the patented directional turning floatation, you can clean any of your pool's surface types and configurations in a breeze.
Click here to View 192+ Buyer Reviews
You will not need to manually loosen the build-up and break down the debris because this cleaner comes with its own rotating scrubbing brushes for that. It is also capable of vacuuming debris and dirt in through ports to avoid your pool from clogging. When compared to most pool filtration systems, the Aquabqot Junior In-Ground is capable of micro filtering our debris and dirt such as pine needles, burs, leaves, sand, and pollen, silt and even bacteria and algae.
Designed for pools that are 40 feet in length, this cleaner will scrub any surface type and configuration to give your pool an incredible look. You can even adjust it to any time that you desire by connecting to a standard auto timer.
When it comes to its pump motor, you will be amazed. It is individually sealed, brushless, water-cooled, and with heat-dissipating and lubricating oil for increased motor life. What is, even more, is that the cord, power supply, and this cleaner are ETL listed to UL standards. Meaning that you are assured of reliability and the safest experience when using this cleaner.
Aquabot ABTURT4R1 Turbo T4 In-Ground Robotic Swimming Pool Cleaner with Remote Control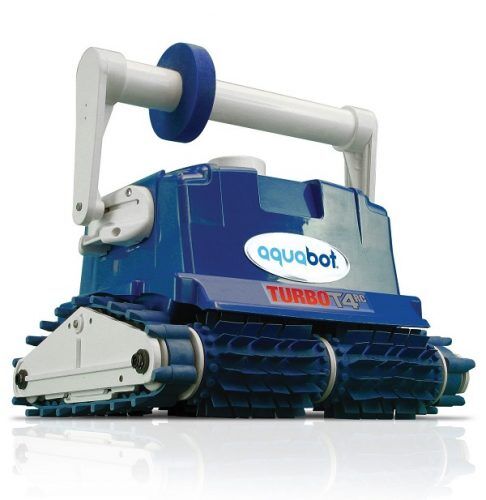 Pros
Capable of filtering 75 gallons per minute
Cleans walls, floor, waterline and can climb 90-degree floor to wall transition
3 button wireless remote control
Has a 75 feet cable for easy transportation
Cons
Vacuum constantly breaks down
Yet another powerful and reliable pool cleaner in the market, the Aquabot ABTURT4R1. Having this cleaner for your routine pool maintenance will not only ensure that your pool is spotless but also lets you be in control of the process. This machine is more than a pool cleaner and is what you should consider buying if you don't have one yet. Being a powerhouse fully packed maintenance system, it will scrub, perform power washes, vacuum, and filter and even circulate.
Click here to view Buyer Review
If you want to be in control, there is the provision of 4D, 360 degrees pinpoint accuracy control at your fingertips. It only takes less than 1 hour for this cleaner to complete its process in a 50 feet long pool, regardless of its design. To get started, simply drop it in the pool and press a button and everything from the floor, walls, and waterline gets cleaned.
The Aquabot Turbo T4. Excels with its upper grip PVC brushes that are good for traction. Having patented power washing jets, this cleanser ensures that even the finest particle gets filtered. In case you feel the need to touch up a few spots, in a more focused way, there is a 4-way, 6 buttons accurate remote control that lets you do exactly that. Boasting of the most powerful specifications of any other cleaner in its class, the Aquabot ABTURT4R1 truly proves there is power in numbers.
Which inground pool Cleaner is the best for any swimming pool?
The Pentair GW7900 Kreepy Krauly stands out as our favorite inground suction pool cleaner for a couple of reasons. To start with, you will not get a machine worth a couple of hundred dollars with a rich feature set such as this particular model. It's designed for in-ground pools and cleans methodically to prevent random dirty spots, a problem in some pool cleaners.
And regardless of the surface type or configuration; concrete, gunite, vinyl and fiberglass, this machine will clean them all. The best of it is that you will not need to keep replacing its wheels periodically. It is a very low maintenance machine and you can be sure to save a lot on your monthly expenses.
What we love most about this pool cleaner is that at just 13 inches square, it can easily fit in and around obstacles just like modern safety drains. It will capture large leaves, twigs, sand, pollen, debris, small leaves, dead bugs and even the finest particles of dirt without any hassle. Suction power depends on how often you clean your filters.
Therefore, as long as your filters are well maintained, this machine will always do a great job of picking anything up leaving your pool with crystal clear water. In fact, it is one of the few pool cleaners that is highly praised for its ability to scrub off and collect algae.
How much does an in-ground pool cleaner cost?
The first question you will ask yourself before buying a swimming pool cleaner is; how much does it cost? Just like any other product in the market, the price ranges depending on various factors. If you are looking to buy an inground pool cleaner with fancy bells and whistles, the price tag would be higher than if you just want a simple machine.
Again, also where you buy determines the price of your product. Usually, the in-ground pool cleaners range from $99 to $1000 and above depending on the model, brand, features and quality. The disparity in prices between mid-range and high-end pool cleaners is mainly based on their features. For example, the pricier ones have a remote control, 4-wheel drive technology, etc.
What benefits do you get by buying the Pentair GW7900 Kreepy?
One major problem associated with most pool cleaners is the maintenance cost. Well, it is one thing to have a machine that has all the features you ever wanted but it is another thing when it comes to recurrent expenses. The Pentair GW7900 Kreepy is one machine that truly guarantees you of low monthly bills. Installation is also so simple since the instructions are pretty much straightforward and the accessory parts are a great addition to the package.
You probably at one point cleaned your pool and when you just thought you are done, you suddenly spot some dirt hidden in tight corners. You struggle with them but unfortunately, your standard pool cleaner couldn't remove all of them. Well, this machine, will clean both the shallowest and deepest ends of your pool without any problems. Although it doesn't clean the steps, the Pentair GW7900 Kreepy doesn't hang up when cleaning.
For exemplary performance, when setting up this machine, you could tweak it to your pool shape, size, pump and filter configuration. It will then perform its functions without any problems. And if you have a variable speed pump, you have to set it for it to run continuously at the highest setting throughout the cleaning cycle.
With the different models and brands of in-ground pool cleaners available in the market, you might get confused when choosing the one that matches your needs. Therefore, it's only wise that you take your time to research and consider a number of factors while making your purchase.
And in this case, no model is deemed good or bad, since each is suited for different people with different pool needs. Hence, we effortlessly committed ourselves to narrow down your search by providing you with the 10 best in-ground pool cleaners. Which you can now choose from and irrespective of your choice, you will not regret.