Bestway steel pro 12ft pool frame is an easy to use and excellent quality swimming pool for everyone. Whether you want to enjoy swimming with your friends or family, or want to relax in the water during the hot weather, this is a good option for you.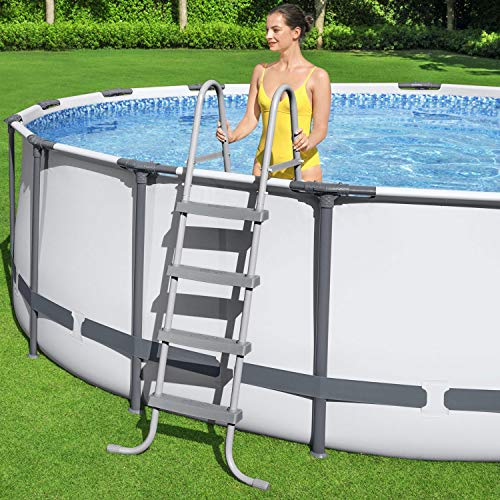 Also, you can improve your swimming skills by practicing swimming in it. This frame is effortless to install if you correctly follow the DVD for guidance.
The rust-protected steel frames are joined with the help of clips, and then this beautiful metal frame pool is formed. You can use this for many years as no compromise is made on the quality of this frame.
Top Features
3-ply PVC support bands provide strength to the pool frame.
The design and construction of the pool frame are remarkable.
This long-lasting pool frame is made from rust-resistant steel that can bare strong sunlight without any damage.
Tear-resistant walls made from three distinct layers of materials with the inner polyester mesh layer surrounded by two dense PVC layers.
A draining valve to provide you with easy drainage of water is present in Bestway steel pro 12 ft.
An instructional DVD to follow if you want to assemble the pool in less than an hour.
It comes with a sturdy and durable PVC repair patch kit.
This pool carries a filter cartridge and a 330-gallon filter pump for storing water content.
A much better option than inflatable pools as it is more durable and stronger to make the whole family enjoy summers.
What Users Saying About Bestway Steel Pro Frame Pool?
This 12 ft. swimming pool is an excellent option for use at your home. If you are looking for quality at an affordable price, this is the thing you need to buy for sure. This is suitable for younger kids. It can store a lot of water and is easy to drain because of the drain valve attached to it. The three-layer walls are tear-resistant, so you don't worry about the durability of the Bestway 56061US Steel Pro.
The best thing it offers is an easy installation. You have to watch the instructional DVD that comes with it, and in not more than an hour, you have your Bestway pool ready to use.
Compare Intex 12′ x 30″ Metal frame pool vs Bestway steel pro 12 ft pool
The Bestway steel pro 12 ft.is a good option for kids in affordable price. The main difference in both the metal frame pools is that the Intex 12'x30″ comes with ground fault circuit interrupter in case of electrical current exposed to the water.
Another difference between both the pools is of the weight. The Bestway steel pro has a weight of 30 pounds, which is lighter than the 49.1-pound Intex metal frame pool.
You may like Top 5 Intex Ultra Frame Pool in 2022
You may consider 10 Best Pool Vacuum 2022 – Pool Vacuum Reviews And Guide
Key Features of the Bestway steel pro 12ft pool
Size
The size of this product is 12 feet by 30 inches. This pool is appropriate to be used by kids of younger ages.
Water content storage
You can store water in this pool up to 43 inches. You can easily practice swimming and relax in the water by seeking an escape from the sweltering heat.
Strength
This pool is made from rust-resistant steel. The three-layered wall provides power to the pool. These layers include an inner polyester layer surrounded by two outer heavy-duty PVC layers.
Affordable Price
Don't worry about the price of Bestway Steel Pro above ground pool. You can get this strong, tough, and durable for only$ 199.
Durability
The tear-resistant walls make this pool much durable for you. The excellent quality steel and extra layered walls provide it more strength.
Bacterial growth
This pool includes a filter to keep your water clean. But it is necessary to use chemicals or chlorine to keep bacteria away from you.
Drainage valve
You have a drainage valve in this pool. This valve will make the drainage process convenient and easy for you.
How Worthy Steel Pro pool is compared to features and performance?
If we consider the price, then Bestway Steel Pro 12 ft. is a good swimming pool. It offers a variety of features to the users. The installation process is also very convenient. You can use this pool for many years. Just take care of the cleaning process to make this pool more comfortable for you.
FAQ's About Bestway Steel Pro 12ft
Q: What is the approximate depth of this pool?
This pool is 48″ ft. tall and is ideal for younger kids. The maximum amount of water this pool can carry is about 43 inches.
Q: I am looking for a pool that can easily control bacteria, how do you stop bacterial growth in this pool?
This pool comes with a filter to keep the water clean and flowing. Moreover, to ensure correctly clean water, you have to use chemicals and add a suitable amount of chlorine to keep bacteria away from the pool.
Q: Is the installment process easy for this pool?
Yes, you can set up your pool in less than an hour if you follow the instructional DVD, which comes with it.
Q: I want the security and protection of my family. What do you say about the strength and durability of this?
This pool is durable as it is made up of rust-resistant steel. It contains three distinct layers in the walls made from heavy-duty PVC and polyester mesh.
Q: How much time will the delivery process take?
The shipping process is easy, and you don't have to wait much for the arrival. It will only take a few days to arrive at your home.
Verdict
This swimming pool is suitable for those who are looking for quality at affordable prices. You can get this if you have little kids at your home. You have to maintain proper cleanliness in the pool to make sure that swimming does not harm you in any way.