Bestway steel pro round frame pools are top and reputed names on the market. People love it for the pools' durability and simplicity. If you don't believe us, you can check the reviewed models below and see for yourself. Our team maintains some parameters strictly to select and recommend an above ground pool.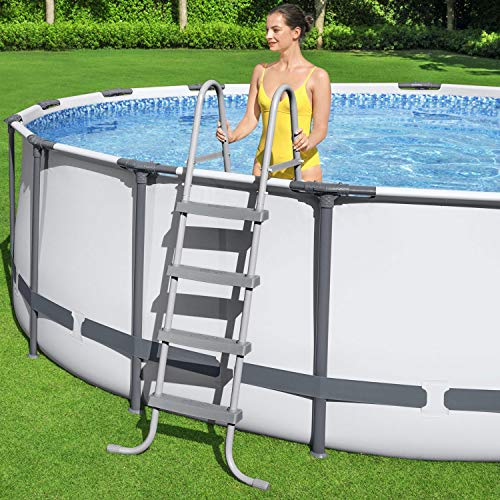 As we were short-listing the models, the following 5 Bestway pools passed all the steps. The following pool models are affordable and durable at the same time, which you won't find in other models. Let's get started with the reviews and then read how our team short-listed the models.
Reviews of the 5 Bestway steel pro round frame pool
There are a lot of Bestway round frame pools, but not all of those perform the same. So, we researched and selected to do 5 of the Bestway pool reviews.
1. Bestway Steel Pro Frame Pool
For the above-ground pools, one main concern is the quality of the body material. Many customers have bad experiences as cheap above ground pools are easily torn within a year or so. But you won't have to worry about this one because it has Tritech technology which ensures strength and durability.
Key Features
The frame size of this pool set is 20-foot x 4-foot, which is more than big enough for your kids.
Tritech material is used to build the side walls so that you don't have to face tear-up situations.
This pool is highly durable and safe because of its high-quality polyester mesh, which is put in between two layers of durable PVC.
You can set it up in your backyard easily within an hour, and it will add fun to the kid's summer activity.
To get a secure pipe connection and no accidents, it has a Seal & Lock system that holds the whole frame.
The Tritech technology comprises 2 layers of strong PVCs which don't react to anything and one internal layer of mesh polyester. The PVC layers give durability, and the mesh gives wear-resistance. As a result, you will be able to use this pool for many summers.
Moreover, the package contains all the necessary equipment so that you can set the pool without anyone else's help. After completing the ground, you can set it up within an hour and fill it immediately. As this is a comparatively big pool, you can buy it if you have enough space in your backyards.
2. Bestway Steel Pro 12 x 30 Inch Frame Pool
This is one of the best Bestway steel pro round frame pools because of its decent size and a reasonable price. Anyone can afford it, and we think you should choose it to increase the fun of this summer. The pool is neither too big nor too small, making it perfect for having a fun-bath altogether.
Key Features
Superior wall design and well build quality make it durable and reliable like steel wall pools.
It comes with a 3-ply PVC support band around the pool to give extra support and stability while it is full.
The lightweight PVC material that is used to build this pool protects it from UV and abrasion damage and gives tear-resistance.
The pool is very easy to set up, and you can empty the excess water with its flow-controlled drain valve.
Moreover, it has a ChemConnect chemical dispenser, which will replace the need for a chemical cleaner.
The bestway 12ft pool steel frame is worth every penny you will invest in setting up an above ground pool with its features. Its sidewall has multiple layers for stability and strength. The vertical pool legs and top rails are easy to set up and don't need any tool.
Without someone else's help, you can set the pool by yourself within an hour. Furthermore, cleaning the water won't be much of a problem with the ChemConnect chemical dispenser. So, that is not only effortless but also a cost-effective solution. If you feel like you have filled it with excess water, you can immediately empty it as much as you want with the flow-controlled drain valve.
3. Bestway Steel Pro 12′ x 30″ Frame Pool
This Bestway fast set pool can be your pro-choice as it comes with advanced Tritech material for extra strength and more durability. Tritech means that the outer wall has three different layers. Two of them are strong PVC, and the inside one is a mesh polyester.
Key Features
The side walls are solid as they are made with multiple layers of PVC and polyester mesh.
That Tritech technology also ensures durability, along with safety from UV light that fades the color.
The diameter of the pool is 12 feet, and the height of the wall is 30 inches, which is enough for small families.
The top rail, t-connectors, and the support legs are metal frames so that the pool has enough strength to withstand this much load.
With its flow control drain valve, you can drain the excess water precisely as well as empty the pool and pack it up.
As a result, the pool becomes more durable and tear-resistant. Moreover, the pool stays safe from UV or abrasive damage that other materials can't. The top portion of the pool and support legs are made from strong metal tubes. It ensures stability and holds the structure perfectly throughout the summer.
The pool can hold 1710-gallon water when you fill it to its 90% capacity. The height is 30 inches, and it is enough to teach your kids swimming. The pool can also support parents to have a relaxing time with their kids.
4. Bestway 18ft x 48in Steel Pro Round Frame
We like this pool because of the items Bestway offers with the package. If you buy this model, you won't have to worry about another item to purchase separately. From setting up to storing the pool properly, it has every item that you might need. Even, it comes with a ground cloth on which your pool will be safe from sharp or harmful objects.
Key Features
Tritech material is used to build the sidewalls and sidebands so that you get the most durable pool.
It comes with a garden hose connector so that you can connect it to the existing draining system and drain easily.
Its ChemConnect dispenser has an anti-microbial filter to remove the algae that also regulates chlorine.
The package contains a full cleaning kit so that you don't have to spend extra money on cleaning tools.
The pool also comes with a ladder, filter pump, ground cloth, pool cover, and more items for complete maintenance.
As it doesn't need any tool to set up, you can do the whole thing entirely by yourself. After setting up the pool, you can fill it up quickly and start using it immediately. Moreover, it comes with a garden hose adapter that you can use with your existing setup and empty the pool as you need.
After that, our concern focuses on the cleaning and maintenance of the pool. For cleaning large objects, it comes with a 9-foot pole for use with vacuum/skimmer and a surface skimmer. On the other hand, the ChemConnect has an anti-microbial filter to fight the algae and regulate chlorine. With all those features and good quality materials, the price is also higher than other models. But think about the things you are getting, and it will match the costing of other models.
5. Bestway 56463 Steel Pro Frame Pool
This is the Bestway steel pro round frame pool that we recommend to those who love to have a big above ground pool. If you have enough space in your backyard and can afford this high-end pool, you should order one today.
Key Features
For long-lasting and durable build material. Bestway uses heavy-duty PVC and 3-ply polyester on the sidewalls.
The metal frames are rust-resistant and durable enough to support the full capacity and maintain the shape.
The 18 feet by 4 feet pool can hold more than 6000 gallons of water, which is enough to teach your kids swimming.
It comes with a ladder so that you and your kids can jump in the pool without damaging the round frame on top.
You can connect the drainpipe to your existing drainage system and empty the pool easily when you are not using it.
The reason is its quality, durability, and accessories that come with the package. You won't have to order another accessory to set up or maintain this pool. The cleaning kit comes with all items from collecting large objects to fighting algae. Also, the draining is very easy with its compatible ground hose.
The Tritech material is strong enough to take the load of 6 or 7 people and its 90% water-fill. The reinforced rope outside the bottom of the pool will add more strength to the support legs and give more stability. Overall, this is a pool that you can rely on and have a memorable summer.
Why choose Bestway steel pro pool
To get the best above ground pool, you need to check and ensure some points. If you do that, you will get the superpowers like our team to choose the best product for the price. Above 5 Bestway steel, pro round frame pools got their position on the list by passing the following parameters.
Material
The build quality of the pool is significant because the strength and durability depend on it. High-quality PVC and Polyester mesh make a strong combination that is tear-resistant and strong enough to hold more than 8000 gallons of water load. The PVC is a non-reactive material, and it is crucial to keep the water clean from chemicals. The UV also can't do any harm to the pool's outside layer. So, we chose the Bestway pools built with these materials and technology.
Frame
Metal frames are expected because it has the strength to support these vast pools. With coatings and durable metals, your pool will have a rust-free steel frame that will last for years. That is another parameter we maintained strictly before recommending one to you.
Drainage
After confirming the above factors, you need to focus on the drainage system of the pool. Some pools come with such compatible adapters that you don't have to make new arrangements. Most of our reviewed items come with such arrangements.
Cleaning
Cleaning and maintaining pool water is important to keep having fun for limited days in the summer. You have to have two different types of cleaning kits. One is for cleaning large objects like a leaf, or other things. And another is for keeping the algae away from growing. You will find those kits inside the package of those pools.
Accessories
If you can afford an expensive pool model, you will get a lot of accessories. These accessories will include complete cleaning kits, ladder, and many more. Finally, you will see that you are not spending too much money as those accessories also have some values.
You may also review Top 20 Above Ground Pool Ladders and Steps Reviews
FAQ's about Bestway steel pro round frame pool
Q. Are Bestway Pools good?
Not all but some Bestway pools are good for your kids, and we have reviewed the good ones above.
Q. How long do steel frame pools last?
Steel frame pools are preferred for its durability, and a good one can last from 5 to 20 years, depending on the weather condition and maintenance.
Q. What do you put under the above ground pool?
The best thing to put under an above ground pool is smooth sand, which is free of sharp or big stones. But you can also make concrete ground for the best results.
Verdict
All of those 5 Bestway steel pro round frame pools are worthy, and you can select one according to your budget and space. But our team wants to help those who are still in confusion with their recommendations.
They recommend the Bestway 15ft Steel Pro Frame for big houses and more than 4 member-families. However, you can also order this Bestway Steel Pro 10ft in case of a small space and a lower budget.