Here is one of the most advanced automatic pool vacuum cleaners, the Dolphin 99996356 that you will wish you had for your swimming pool. Featuring microprocessor technology, this machine takes up all the chores of keeping your pool spotless. It's fully packed and doesn't require any additional hardware or even plumbing to operate. And if you thought transporting this machine is a piece of work, the in-built caddie makes it easy to relocate it from your storage area to the poolside.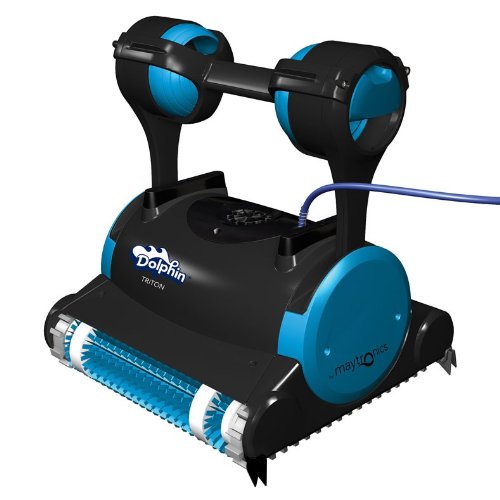 The Dolphin Triton 99996356 is truly one of the simplest pool cleaners in the market that ensure that your in-ground pool is clean at all times. Once out of the box, all you have to do is plug it into a power outlet, drop it into your pool and let it perform its functions.
Even better, with this appliance, it will scrub and loosen debris and dirt from all your pools surfaces also vacuum all the trapped particles in the filter cartridge. Moreover, this cartridge comes into 2 types; the spring and standard clean and they are easy to clean and replace.
Key Features of the Dolphin Triton 99996356
The Dolphin 99996356 vacuums, filters and scrubs in just 3 hours
Easy to clean cartridge filter system
Its Patented swivel cable helps prevent the cord from tangling thus lets you clean your entire pool without any interruptions
The caddy comes in handy for easy transportation of your pool cleaner from the storage area to your poolside
It is self-programmed for efficient and optimal pool scanning
The Dolphin 99996356 is capable of cleaning your pools walls, floor, and cove and is Recommended for in-ground residential pools that have a maximum of 50 feet
Pros
Doesn't require any installation
Cleans in just 3 hours or even less
The grinds are easy to cleans
It is energy efficient
Cons
Its filter cartridges clog quickly and are small
What makes Dolphin Triton Robotic Pool Cleaner the best in the market?
The Dolphin triton robotic runs ring around most of its contenders in the market when it comes to delivering outstanding performance. This pool cleaner runs on a standard 110v power outlet and will work on both regular pools and saltwater systems. It will thoroughly get rid of debris and dirt in about 3 hours leaving your clean sparkling clean.
Featuring 2 sets of grids, a fine and coarse grid, the Dolphin 99996356 can typically pick up anything ranging from leaves to the finest particle without compromising the general performance. When compared to older bag style grids, the ones in this machine are easy to remove and rinse.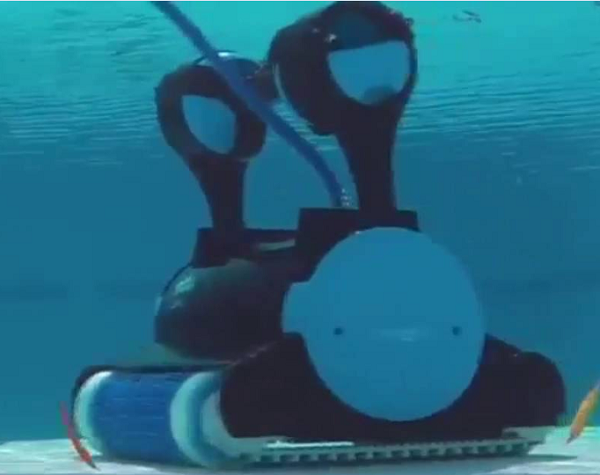 It is worth mentioning the in-built microprocessor technology integrated into this machine. This comes in handy when mapping out all your pool surfaces starting from the bottom to the waterline to adapt the most efficient pattern for cleaning. There is a 60 feet electrical cord that supplies power and has a patented swivel connection where it goes to the Dolphin 99996356. This swivel prevents the cord from getting tangled thus ensures an interference-free cleaning operation.
What are users saying about the Dolphin 99996356 Dolphin Triton Robotic Pool Cleaner?
Users were impressed by how the Dolphin cleans up silt, sand and debris easily and quickly. They also liked this appliance since it can climb their pools walls to provide a top of the line cleaning experience. And unlike other pool cleaners, with the Dolphin 99996356, you will not need to attach it to the skimmer or wall pump.
Instead, all you have to do is plug it into a power outlet, drop it in and press the button to get it started. You will be amazed at how easy it cleans the whole pool including sides, steps, and bottom. And regardless of whether the cleaner is done cleaning your pool, just take it out, clean its filters. Then put it back into its caddy as you wait for the next time your pools require thorough vacuuming and scrubbing.
Click here to view 266+ Buyer Reviews
Why I fell in love with this machine
I have used the Dolphin 99996356 Triton for 6 months now, and so far, it hasn't disappointed me. Before I bought this machine, I must admit that my pool never got close to the right definition of clean. But when I finally discovered the Dolphin 99996356, I have never been happier.
All I have to do is drop it into my swimming pool and immediately this pool cleaner analyzes the exact dimension of my pool to determine the quickest yet most precise patterns of the cleaning movement. The scanning process covers the pools walls, floor, waterline, and cove. And since it comes equipped with a swivel cable, I don't worry about the cord getting tangled regardless of how long it maneuvers.
What I love most about the Dolphin 99996356 is that it is a plug-n-play robotic cleaner that requires no assembly. In fact, it's ready to operate the moment you get it out of the box. I don't even worry about connecting it to existing pool system because it doesn't need to. Even better, being a self-programmed robotic cleaner with a single cleaning cycle, it only takes me at most 3 hours to have my pool cleaned.
Compare Dolphin Triton 99996356 vs Dolphin PRIMALX3 Primal pool cleaners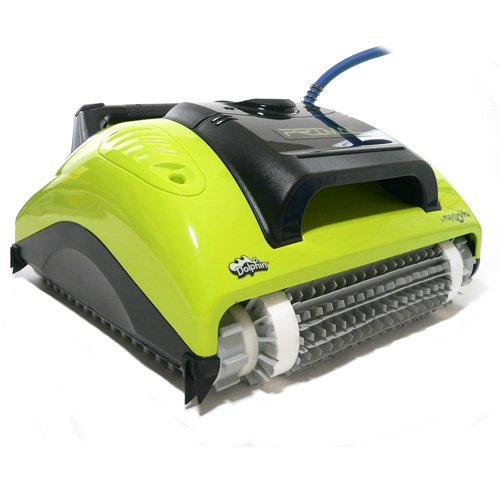 These cleaners come along with plenty of features and even extra functionalities that you may find necessary. Being all in one automatic pool cleaners, you can be sure to get your cleaning job done efficiently and effectively.
While the Dolphin Primal X3 uses 2 filters with both fine and ultra-cartridges for collecting and containing all types of particles ranging from the smallest to the biggest ones the Dolphin 99996356, uses 2 sets of grids, a fine and coarse grid.
The two pool cleaners also have a long non-swivel cable that enables them to reach every corner of your swimming pool without tangling. Better yet, whether you choose the Dolphin 99996356 or the Dolphin Primal X3, you will have your pool cleaned in just 3 hours.
Is the Dolphin Triton 99996356 worth your money?
The Dolphin has been one of the most famous names in pool cleaning products. It boasts of the Dolphin 99996356, which has been listed on the Dolphin's exclusive lines of high-quality products. It comes with various advanced features straight out of the box, and these include scanning ability, ease of use, suction rate and power, and energy-efficient cleaning.
What makes this machine stand out is its brushes that are capable of scrubbing your pool regardless of whether it is made of a liner, concrete, or tiles. It also comes with a one-way water valve that prevents any debris from falling off and getting back into your swimming pool. In fact, this pool cleaner is the perfect purchase for anyone who owns a swimming pool.
Final Thought
If you are looking for a great piece of an appliance, then the Dolphin 99996356 is what you need. It is capable of doing a fantastic job at pool cleaning. It will remove even the finest debris and particles from your swimming pool leaving it spotless to give you a healthy and fun swimming experience.
Even more, it comes with a 24-month warranty on parts and labor hence you are guaranteed that any problem with these machines will be easily and quickly solved. The bottom line is, the Dolphin 99996356 is an impressive machine with a variety of benefits at an affordable price.