Having a pool is definitely one of the best ways to relax. But every pool owner knows that having a pool is more than this; you also need pool maintenance. Most people hire professional cleaners, experts to efficiently clean their pools and for regular maintenance.
However, there is a pool cleaner that will keep your pool clean and the water healthy and this is the Dolphin E10 automatic pool vacuum cleaner, a robotic pool cleaner with cool features. Find out if this worth owning with its good features and performance.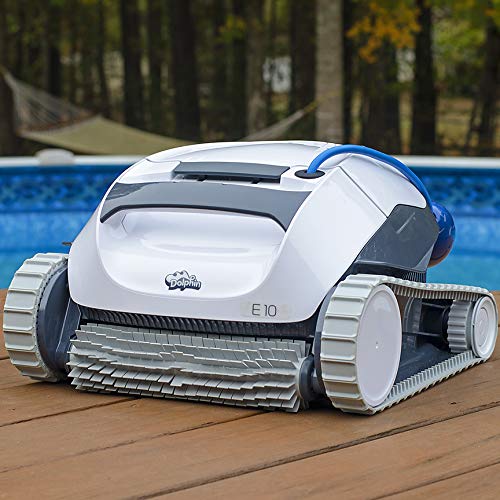 Noticeable Features of this Dolphin E10 Robotic Pool Vacuum
Easy to use, single-button operation

For above-ground pools

Plug-and-play pool vacuum

Will clean pools up to 30 feet long

CleverClean technology to avoid random movements

Easy access to the top filter cartridges

Active brushing to remove tough dirt and pool debris

8x energy efficient compared to suction pool cleaners and pressure side pool cleaners
Requires

no hoses or booster pumps
Key Features of the Dolphin E10
Drop and go
The E10 is Dolphin's most popular, basic automatic pool cleaner. It is easy to use and all you need to do is to drop it in the pool and wait. Just press a single button and it's off. You can maintain your above ground pool more efficiently to prevent dirt accumulation and algae growth.
The E10 can work up to30 feet. It requires very little human intervention plus it can move in different directions using unique robotic technology. Forget about random pool patterns because this will scan your pool and with an advanced algorithm to clean your pool.
CleverClean Technology
CleverClean Technology eliminates unnecessary movements of your robotic pool cleaner. It will guide the machine as it moves over the floor of your in-ground pool cleaner. The manufacturer claims that the E10 can clean a regular-sized above-ground pool in just an hour and a half. There's no need to wait too long before you can enjoy a clean pool.
Easy to access top-loading filters
It's easy to clean the filters of this pool cleaner. Just open the filter basket access port on top and clean the filters. It may not have a large cartridge filter but it can remove fine debris, leaves, and sand off your pool.
Faster-spinning brushes
Faster spins equal to better cleaning. The E10 has active brushes that will spin twice as fast as ordinary pool cleaner brushes. This will allow the E10 to plow through dirt, debris, and even leaves.
The brushes are huge, sturdy and will sweep up dirt and debris especially for above-ground pools. Meanwhile, the wheels use traction power which is better compared to other types of wheels of above-ground robotic cleaners. This has improved grip, better movement underwater.
Energy efficient
Another quality feature of this robotic pool cleaner is that it's energy-efficient. In fact, the manufacturer states that this is 8x more efficient compared to other cleaners. It can clean above-ground pools faster and more efficiently with its features. Also, it does not require booster pumps or additional hoses to work saving you money and power as well.
What Users Are Saying About the Dolphin E10?
Despite being smaller than its Dolphin siblings, the E10 has a large following. Many were charmed of this pool cleaner's ability to clean above-ground pools without any booster pumps or suctions. Users say that it was able to remove all kinds of dirt, fine or large pieces of debris in one pass.
It works slowly but it's just taking its time to clean pools thoroughly. Many say that the top-loading filter basket is a blessing. They don't need to carry the robot and open it from the belly to remove trapped dirt and debris.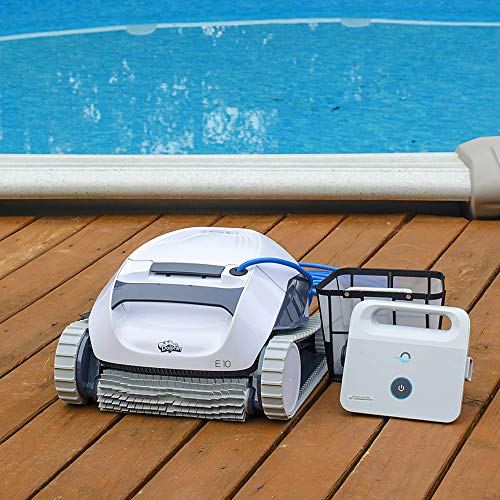 Click Here To View 129+ Buyer Reviews
The brush action is also another feature since this scan sweep dirt easily and can move to any area on your pool floor with ease.
Meanwhile, there are people who are not convinced of the design of the E10 saying that the traction belt can be easily removed. Some are looking for the weekly scheduler function however this is only found in in-ground Dolphin pool cleaners.
Compare Dolphin Triton PS Plus vs Dolphin E10 Automatic Pool Cleaner
First of all, the Dolphin E10 and Dolphin Triton PS are two completely different robotic pool cleaners. The E10 is an above –ground pool cleaner while the Triton PS is for in-ground pools. Both boast improved filtration, large top-loading filters, powerful scrubbing capabilities, and good cleaning power.
But the Dolphin E10 excels in its own field and its own list of features. The Triton PS comes with extra features that it needs for cleaning in-ground pools. It has a weekly scheduler and enhanced traction for wall, waterline and underwater obstructions cleaning. These features are not present in the E10.
Therefore, if you're looking for an in-ground pool cleaner then a Triton PS is what we recommend. But if you are looking for a robotic pool filter with improved features for your above-ground pool, you should use an E10.
Disadvantages of the Dolphin E10
The Dolphin E10 has impressive features and advantages over other robotic pool cleaners of its kind. However, there are some flaws as well as lacking features. First of all, it lacks the weekly scheduler which is found in in-ground pools.
This does not climb the sides of the pool, again due to the fact that it is an above-ground pool cleaner. It comes with a standard filter therefore, you need to spend more money to buy a fine filter.
Verdict
The Dolphin E10 is a pool filter with good features appropriate for its use. It offers efficient cleaning with its faster spinning brushes, lightweight, single-button design, and enhanced CleverClean technology.
The Dolphin E10 is 8 times energy efficient compared to other robotic pool cleaners. It does not require hoses or booster pumps to use. And despite a few flaws and lacking features, this above-ground robotic pool cleaner might be the automatic pool cleaner you have been looking for. Click this link to find out more about the Dolphin E10 Automatic Robotic Pool Cleaner.