Have you always longed for a swimming pool at home? Your dream can turn into a reality with a Summer Waves Pool. These are above ground frame pools that can be easily set up in your backyard, garden, or anywhere around the house. To keep the water clean, you need a pump. But, how to connect Intex pump to summer waves pool?
The filtering system of Intex pumps is excellent and it helps to keep the water clean for longer. These pumps are easy to connect and if you follow the guidelines, they can be effortlessly installed at home. Specifically designed for above ground pools, the Intex Sand Filter pump uses a valve to remove dirt, visible particles, algae and bacteria. This keeps your pool clean and contamination-free for longer periods.
How to Select the Correct Pump to Summer Waves Pool
Whether you want to replace your existing pool pump or get a new one for the summer waves pool, it is important to select the best one. Since the pump plays an important role in maintaining the pool's health, you need to take a look at specific features. Here's what you need to keep in mind before selecting a pump for your summer waves pool.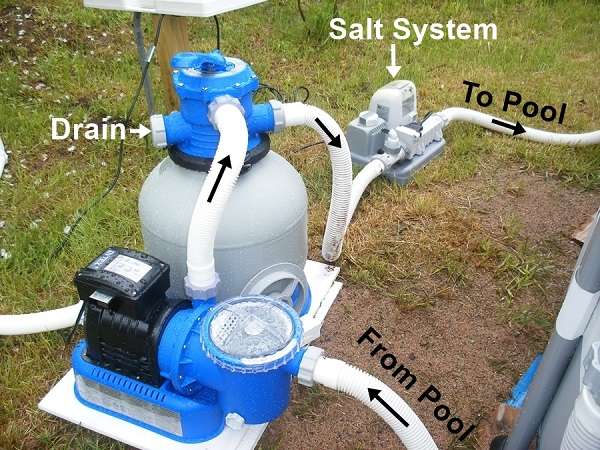 Pick Suitable Pumps
It is best to pick pumps that are suitable for above ground pools. Although pumps designed for in-ground pools can also be used for above ground pools, it is better to select specific varieties. This ensures optimum performance.
Horsepower
A powerful pump will have more horsepower compared to a weaker one. A pump with more horsepower will be capable of turning water faster. Therefore, you can use it for short periods and you do not need to run it frequently. Depending on the size of a pool, choose the power of your pump. If you select stronger pumps for a small pool, it will only waste energy and cost more.
Pump Motor Voltage: Before buying a pump you need to determine the voltage of a pump. Generally, above ground pool pumps require 110-volt pumps.
Choose the Right Size
To keep the water clean, it must be filtered at least once a day. So, you need to check the pump's turnover rate. This can be easily calculated as per the pool's volume. You can either ask the retailer to do the calculation for you or rely on an online calculator to determine the right size.
Different Types of Intex Sand Filter Pumps
Intex manufactures a wide range of sand filter pumps for summer waves pools. These pumps are specially designed to keep your pool clean and contamination-free. The all-natural sand aids water filtration. The control valves also help to filter, rinse, backwash, re-circulate, drain and close the system. Depending on your preference, you can select an Intex Sand Filter Pump.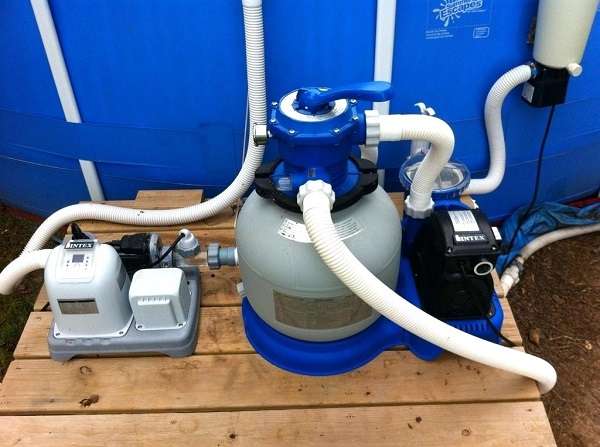 Here are some varieties that you can consider.
1200 Gph Krystal Clear Sand Filter Pump, 110-120V with GFCI:
Equipped with Hydro Aeration Technology, these pumps are specifically designed for above ground pools. It improves filtration and circulation, water clarity and increases negative ions at the pool's water surface.
2100 Gph Krystal Clear Sand Filter Pump, 110-120V with GFCI:
Designed for pool sizes of 2800 gal and 12,800 gal, this sand filter has a turnover rate of 1600 Gph. The built-in 24-hour timers in these pumps offer hassle-free maintenance of the pool. With virtually zero maintenance, these pumps last longer. All you need to do is change the sand every 5 years.
2800 Gph Krystal Clear Sand Filter Pump, 110-120V with GFCI:
It is another variety of sand pumps that can be used for bigger pools. Equipped with the same features of Intex sand pumps, these machines help to keep your pool healthy.
A wide range of Intex sand filter pumps is available in the market. Check out your pool's requirements and select the most appropriate pump.
How to Connect Intex Pump to Summer Waves

Pool
Installation of the Intex pump to the summer waves pool is not a very difficult task. The user guide and manual give directions for set-up. Follow the instructions to set up the pipes connecting the filter to your pool. You can also take help from online videos demonstrating the actual process of connecting a sand filter pump to the pool.
Intex Pumps, specifically designed for above ground pools, are useful and efficient. They help to filter and circulate the water and keep it clean.
What do the Settings on Your Pump Do?
When you buy the Intex pool Sand Filter pump, you will notice several settings. The multi-port valve used by the sand filter performs several tasks at a time. Here are some functions that it performs.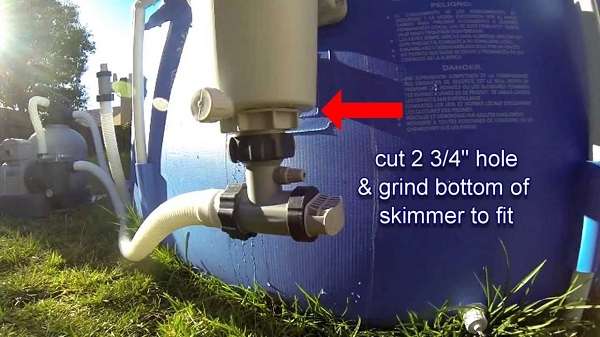 Filtering: It is used for normal filtering of the pool water.
Rinse: The filter tank stores some water. If you want to set the valve to rinse, turn it off and restart the machine. Run clean water for a minute to remove dirt from the system. This process is essential when you change the sand in your filter.
Backwash: The filter sand is cleaned with this function.
Waste: To remove a lot of dirt from the pool, this function can be used. It is also used to lower the water level and drain out water.
Winter: This feature is useful in places where temperatures are very low and water tends to freeze. Since freezing water can damage the pipes and fittings, it is recommended to completely drain the pump and filter. This function will completely close your pool in preparation for winter.
Troubleshooting Sand Filter Pumps
Although you expect your pump to work well for a lifetime, problems may arise. Gathering some knowledge about common problems can help you to tackle the issue effectively. Take a look at some common issues faced by pump owners.
Pump Leaks: If you notice a leaking pump, it can be due to a faulty shaft seal, problems with the thread sealant, shrunken threads on a discharge pipe or a bad impeller housing O-ring. These parts are easy to replace and you can handle the repairing on your own without the help of a professional.
Noisy Motor: It is a very common problem and if you cannot fix it on your own, consult a technician.
Motor Doesn't Start: Check whether the breaker has been tipped. If it is on and the pump still doesn't work, you need to call an expert.
Follow our simple guide on how to connect the Intex pump to the summer waves pool and it is likely to be of great help.