The benefit of Intex Ultra Frame Rectangular Pool reviews will surely provide the important information you need before buying.
Key Features of the Intex Ultra Frame Rectangular Pool
This pool set includes a ground cloth, pool cover, sand filter pump, latter and a rectangular pool measuring 24 feet x 12 feet by 52 inches. Its water capacity is 8, 403 gallons (90 percent) and features dual suction outlet fittings. These are essential in enhancing water circulation to obtain better clarity and water hygiene.
Furthermore, you will get Krystal clear sand filter pump designed to let you enjoy clean water. It has 2, 100 GPH with 110 to 120V capacity. Within 60 minutes, it will be ready for the water. Intex Ultra Frame Rectangular Frame Pool features a contemporary appearance that is matched with improved strength. This framed swimming pool is one of the best sellers on Amazon today.
Another thing you need in this pool set is the pool liner. It is made in an elegant gray exterior and lovely blue tile print. This thing can enhance your backyard. On the other hand, the purpose of ground cloth is for extra protection for the pool's bottom area. This cloth is made of very durable material for maximum use.
For the premium features, you will get the following:
Innovative Frame Design: This feature is provided for the pool frame's uniqueness and durability.
Easy Lock System: This system secures the whole framed swimming pool by snapping together without additional tools needed.
Puncture-Resistant: With its three-ply durable material, you do not have to worry about holes or punctures when some objects get into the pool frame.
Lastly, Intex Ultra Frame Rectangular Pool proudly introduces its innovative Hydro Aeration Technology. This special feature is integrated to achieve more benefits than the regular above-ground pools.
In case you have difficulty setting up this rectangular pool set, there is an instructional DVD included in the package. This will show you the step-by-step process of setting up this rectangular pool set. This DVD is also useful in product maintenance. 
Note: Make sure you will not set it up on mud, sand, and any loose or soft soil conditions.
What we liked about Intex Ultra Frame Rectangular Pool
Looking at the features alone, you can tell that Intex Ultra Frame Pool set is what you are looking for. But before jumping to conclusions, it is important to check the premium benefits you will get when you buy this item.
First, the presence of Hydro Aeration Technology brings some impressive advantages. It can enhance water clarity as it mixes water with air. The aeration process is inducing the oxidation of manganese and iron. As a result, you will enjoy swimming in the sparkling pool water that will give you a great feeling.
Second, you will enjoy enhanced filtration and circulation. Going back to the aeration process, all fine particles in the pool water settle to the bottom and clump together. This way, it will be so easy to get rid of the sediment using the filtration system.
Third, you can boost the presence of negative ions found at the water surface. This also implies that you are increasing the negative ions to enhance air freshness in the pool.
There are more benefits offered by this product and these are also proven by some Intex ultra frame pool reviews. This pool set by Intex Pools is surely one-of-a-kind, a sturdy and durable product you will receive. Most important of all, Intex Ultra Frame Pool is reasonably priced and overall product quality is not compromised.
Rectangular Pool Set by Intex can be ordered online from reputable online dealers like Amazon.com. Make sure you read and understand the details in the package and manual to learn more about taking good care of this pool set.
What to Consider About Intex Ultra Frame Rectangular Pool
Not all products are perfect. When it comes to above-ground pools like this rectangular pool set from Intex, you will find some minor downsides. There are some comments from previous users and their testimonials will let you know if this pool set is worthy of your money and time.
To give you an idea, here are some issues faced by other customers previously:
The pump failed after a few weeks of use

Packaging is not sturdy enough to hold contents safely
Slight issue on the cover
Click Here To View 424+ Buyer Reviews
For these concerns, you need to inform the manufacturer and the team will try to resolve the issue for you. However, there are also terms and conditions you must consider. Even if they are drawbacks, these are not big concerns and can be resolved immediately. Looking at the premium features of the Intex Ultra Rectangular Pool set, you will still get more than what you have paid for. 
Who Can Use This Product?
Intex Ultra Rectangular Pool is designed for people who are looking for a money-saving solution to relaxing at the convenience of their own space. This is best for families and homeowners who want to avoid the hassle of traveling to some places just to get refreshed. These are also for kids, but parents should stay at the side all the time to prevent accidents within the pool.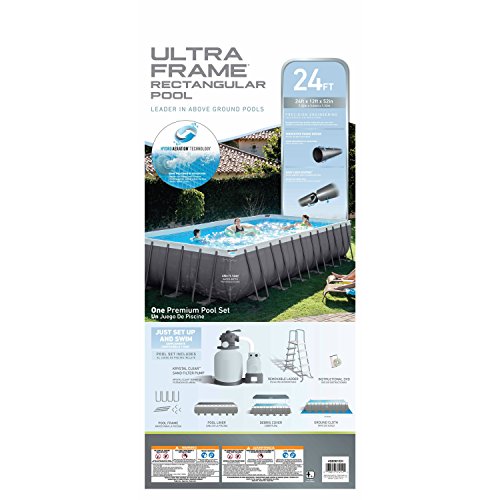 If you want the best value pool set, Intex Ultra Frame Rectangular makes a good choice. There are more things to learn about how it can make your leisure time more fun and more unforgettable. You can use this rectangular pool to spend quality time with your children, loved ones and friends.
Final Thoughts
As mentioned earlier, reading various Intex Ultra Frame Rectangular pool reviews from previous customers can help a lot during your decision-making process. Although there are numerous options available, choosing the best rectangular pool for you can be quick and easy. All you need to do is to remember and understand all the information provided in this review.