Above-ground pools are a great alternative to in-house ground residential pools. The best way to upgrade your backyard and add a fun feature to it is by installing an above-ground pool. They are the first choice for a first pool or a family looking to beat the heat.
These pools are less expensive, easy to install and quick to dissemble. Depending on their size and design, above-ground pools come in a variety of shapes and price points.
In recent years, these pools have changed drastically in features and appearance. An above-ground pool is an excellent investment with spa-like extras such as pool pumps, LED lighting, and great circulation systems.
Today, above-ground pools can last for a good 7-15 years on average. Depending on what you are looking for and how you're planning on using it, you may need access to different types of above-ground pools. For instance, soft-sided pools are just right for some summer fun but if you're looking for something more permanent, you may want to go for an aluminum or metal frame pool. These are much sturdier and also come with a longer warranty.
The Top Types of Ground Pools You Can Choose From
Check out these six types of above ground pools suitable for your backyard:
Easy Set/ Inflatable
This pool is one of the most basic and standard among all. These Inflatable blow-up pools are quick to assemble and disable.
After you inflate the top ring and fill it with water, the ring begins to float, which allows the walls to expand into the purchased size. This type of pool can be as large as 18 inches round and 48 inches deep. There are also inflatable hot tubs available in this category.
The inflatable pools are incredibly inexpensive and quickest to set up. They are also portable and have shallow options, perfect for children. Check out our Bestway pool reviews to understand more about easy set inflatable pools.
Resin Pools
Resin is a hard plastic used to build anything rust-free and solid, from airplane parts to furniture. An above-ground swimming pool made from resin materials is advantageous over aluminum or steel pool parts as they cannot corrode.
Resin is also resistant to warping and denting. It withstands the damaging effects of sunlight and water better than others. Pools made of resin remain cool to touch as well. With a resin pool, you can expect incredible and innovative endurance combined with style and technology.
Steel Pools
Pools using steel are robust yet lightweight. Many of the steel pools use a combination of different types of metal for various components. These metals include aluminum, galvanized steel and zinc.
You can also build a steel pool on a deck or a raised floor. Since the steel is thin, one can easily manipulate and bend it in any preferred shape. If you are interested, click on our summer waves pool reviews to find out more about it.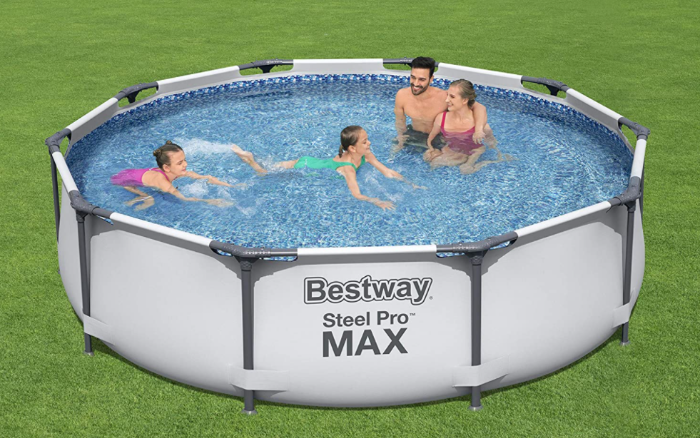 Hybrid Pools
These types of ground pools combine steel and resin together. The steel provides more support while the resin works for parts exposed to sun and water. So, with hybrid pools, you enjoy the best of both worlds: effectiveness and durability, lasting for years.
Aluminum Pools
Over the recent years, aluminum pools have become famous because of their ability to handle harsh weather. Aluminum is resistant to rust and has a coat to prevent corrosion and oxidization.
Compared to steel, aluminum is much more flexible, good at handling water movements, lighter weight, and easy to disassemble.
Radiant Pools
A radiant pool is a type of semi inground pool. It offers the same durability and quality as an inground pool but comes under the affordable range. These pools are also easy to install and customized to fit any yard shape.
Radiant Pools are ideal for yards having uneven ground, hills and slopes. These pools are shipped directly with a kit that you can assemble yourself.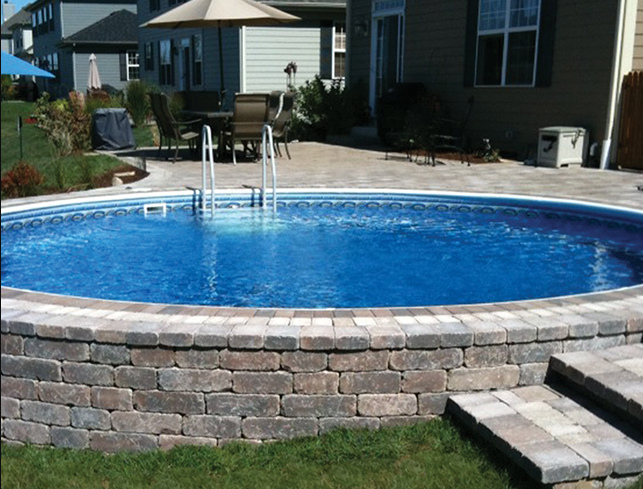 So, whether you require a minimalistic pool or one added with impeccable features like automatic pool water heaters, don't forget to consider the types of above-ground pools before purchasing.