A pool can be the best way to convert the area in front of your house into the ideal space for relaxing and rejoicing. But owning a pool comes with a lot of hassles too! You may need to get hold of a number of tools and equipments for maintaining it. The first thing that you will need is a pool cleaner, which is a vacuum cleaner meant for cleaning your pool from time to time. One such pool cleaner is the Pentair K60430 Kreepy Krauly Cruiser which is a supreme quality ground pool cleaner from the house of Pentair.
Note: This site is reader-supported and we earn commissions if you purchase products from retailers after clicking on a link from our site.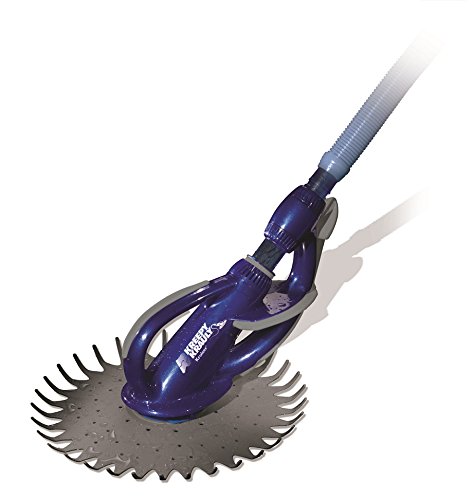 The first thing that comes into my mind while talking about this cleaner is its extra-wide mouth which is capable of capturing debris of different sizes from the pool. It will prove to be effective in case the leaves shed by the adjoining trees get collected in the water. Other similar contaminants can also be removed.
Another unique feature to look for in this cleaner is its superior seal design along with the specially engineered slits and fingers which ensure that the main unit remains intact at its position. It also comes with an in-built bumper so that you can clean the steps and ladders at ease. So, those who are sick and tired with their old vacuum cleaner that gets stuck at every step, this cleaner can be a solution to their problem. Installing the parts is quite easy and it is equally easy to handle it.
User Opinion about the Pentair K60430 Kreepy Krauly Cruiser
Most of the users have been happy to use this cleaner for their pools. They have been fascinated by the ability of the cleaner to work silently, its smooth operation where it does not get stuck at all and the usage of the proper hoses which give it an edge over the other cleaners of its type. It worked great for pools with out-cleaner attachment ports.
However, some users have complained about its ineffectiveness in cleaning lager pools or in the innocuous areas of the pools where the suction mechanism does not work properly. It has received a rating of 4 out of 5 in a review site which is quite appreciable.
Click here to view 55+ Buyer Reviews 
My Experience with the Pentair K60430 Kreepy Krauly Cruiser
I was highly impressed by the versatility of the Pentair K60430. It proved to be equally well around the drains, the tight corners and the lights present in the pool. It worked with perfection and removed all the hidden debris…and that too noiselessly! This is probably because the silent flapper is the only movable part over here.
What I also loved about it was- it needed little maintenance. Now, let us be frank. Maintenance of the pool is itself a time-consuming affair (though it's easier with this Pentair K60430 cleaner); so who will take the trouble of maintaining the cleaner?? With Pentair K60430 Kreepy Krauly Cruiser this wasn't a problem because there is no bag or chambers to be emptied from time to time and no such parts like gear, wheel and diaphragm that would suffer wear and tear.
Is Pentair K60430 Kreepy Krauly Cruiser worthy enough for your pool?
According to some of the users, the price is extremely high for a pool cleaner. However, it is justifiable of a pool cleaner of the stature of Pentair K60430 Kreepy Krauly Cruiser to come with such a high price tag because of the features that it comes with and the benefits it offers.
Your effort in cleaning and maintenance of your pool will be considerably reduced, thanks to the easy maneuverability of the cleaner. It is also not a good idea to let your neighbors know that you are cleaning your pool. The silent nature of this cleaner is thus one of the amazing features that will prove to be beneficial for you.
Benefits and Features of Pentair K60430 Kreepy Krauly Cruiser
There are a number of features in Pentair K60430 that prove to be beneficial for the buyers. Let us have a brief discussion on them.
It comes with curved fingers which prevents the main unit from getting stuck at the corners or thrown off near the main drains. It can also clear the eyeball fittings and lights effectively as a result of this. This further helps in a better cleaning of the pool.
The flapper comes with only a single moving part which helps in utilising the kinetic energy effectively to clean the area of your ground pool. This enables a hassle-free cleaning and ensures that the cleaner does not make much noise while the cleaning process is on.
Another great feature is the in-built bumper which helps the cleaner to move freely along the steps and ladders. So, there is no question of slipping or being stuck.
Pros:
It has a wider mouth with a wide area of coverage.
The noiseless nature of the cleaner is its USP.
The curved fingers prevent it from getting stuck at places.
The built-in bumper helps in moving along the steps and ladders.
It involves an uninterrupted, hands-free cleaning operation.
Cons:
It is a bit highly priced.
A few users have seen it to get stuck in a few cases.
Final Thought
As evident from the above discussions, Pentair K60430 Kreepy Krauly Cruiser is a great pool cleaner which helps in removing all the dust and dirt from the pool at ease. Its unique design and in-built bumper come in handy for you in cleaning your ground pool and do not require you to invest much time or energy in the job. Also, the silent nature of the cleaner will prevent disturbance in the neighborhood.
So, why not spend few extra bucks for buying something that would give you so many benefits? Buy the Pentair K60430 Kreepy Krauly Cruiser and get ready for a splash in the crystal-clear water of the pool!