What feels better than having the pleasure and comfort of enjoying a swim at home? Of course, nothing comes close to this. But after all the fun and games comes the most daunting task, cleaning your pool. At this juncture, it would only be wise to look for a suitable method that combines tech and efficiency. Hence, the Dolphin 99996323 nautilus would most likely be your best choice.
This pool cleaner comes fully packed with features that not only help leave your pool spotless but also make the cleaning process easy and quick. It has a 6-foot cord that enables it to reach even the most hidden corners of your 20 by 40 feet in-ground pool that the standard cleaners can't get to. The swiveling mechanism prevents the electric cable from twisting to avoid disruption of the cleaning motion. Having a compact design, the Dolphin 9999632 will clean both your pool's floor, walls, and coves. And being lightweight, you can easily pull it out of your pool to replace the tire treads and clean the filters. You will also like the self-programmed mapping system that scans your entire pool, regardless of the shape, to find the most energy and time efficient optimal route to clean your pool.
Ease of use
If you haven't purchased the Dolphin 9999632 for your pool, you are most likely missing out on so many of its benefits. This pool cleaner will absorb and vacuum debris and dirt ranging from large leaves, twigs, pollen and even the finest particles. It also has powerful scrubbers that brush your pool's floor and walls to fight the algae build up and in turn, leave your pool water crystal clear. In just 2-3 hours, you can are assured of excellent cleaning job and even more, in any case after 3 hours of continuous use; the timer signals the machine to stop.
Many users considered this cleaner a small appliance, but when it comes to the filtration rate, it is possible of reaching up to 4233 gallons of water per hour. It will work to its potential for any residential in-ground pool which is a maximum of 50 feet long. Cleaning the cartridge filter is as easy as pie. The filter screens will not even need to be replaced and in fact, users who replaced them with filter bags were disappointed.
What are users saying about the Dolphin 9999632?
Users who purchased this cleaner were pleased with is an outstanding performance. No wonder it ranks at the top for ease of use, beautiful yet compact design, convenience, and an excellent cleaning process. The Dolphin 9999632 is truly an economical appliance that works efficiently and fast and requires very little installation time.
What users mostly appreciated about this cleaner is the ease of handling it and the fact that it doesn't require any setup. Just plug it into a standard power outlet and drop this machine in your pool to get the job done. And when it completes its 3-hour cleaning cycle, it automatically shuts down. Well, it may not always be great at cleaning steps and corners but to make its output more efficient, you may be required to loosen up the debris manually with a brush.
This cleaner is good at removing leaves thanks to its screen filter. Moreover, it is simple to keep this filters clean at all times. Users said that they could effortlessly remove, clean and even reinstall them. Doesn't that sound great?
Why do I love this pool cleaner?
I have three commercial pools that are located in a serene environment and attract a large number of swimmers in a day. Thus to give my customers a great, fun and healthy swimming experience I have to keep the pools clean at all times. It is for this reason that I decided to try the Dolphin 9999632 as advised by my friends. I must admit that this is one of my best choices for pools cleaners especially because it cleans large and unusually shaped pools. The Dolphin 9999632 cleaner comes with a long cord that is capable of reaching even the most hidden corners of my swimming pool.
In just 3 hours, this machine will scrub, vacuum and filter my pool leaving it sparkling pool. Being self-programmed, this cleaner scans my entire pool and then finds the most energy efficient pattern for cleaning. And when it comes to cleaning its cartridges, it is as easy as taking a walk in the park. Also having a long patented swivel cable, I can clean comfortably without worrying of any interruptions caused by tangling of the cord. Moreover, the Dolphin 9999632 is incredibly time and energy efficient since it only costs 15 cents or even less to clean my entire pool. Better yet, I don't require pre-installation or connections to my pools pump. All I have to do is just plug and play.
Click here to view 1364+ Buyer Reviews
How affordable is the Dolphin 99996323?
Its price might put you off at the first glance, but the moment you take a closer look, you will undoubtedly appreciate it. At a price point of a couple of hundred dollars, Check Amazon for Price, this pool cleaner comes with a broad range of benefits for its value. You are most likely to appreciate that it is lightweight and has a compact design. How can I forget to mention its brushes, cartridge filters and its ability to vacuum and filter debris and dirty efficiently? All said, it is worth giving this cleaner a shot, and you can be sure to get good value for your money.
Comparison overview between the Dolphin 99996323 and Hayward RC9740 SharkVac Automatic Robotic Pool Cleaner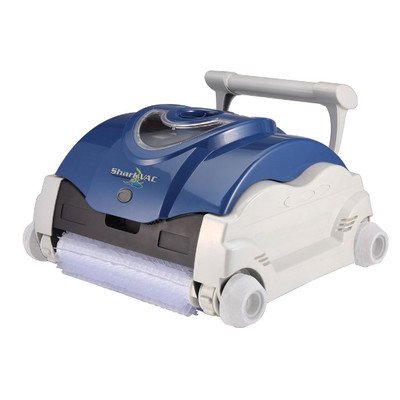 The Dolphin 99996323 and the Hayward RC9740 SharkVac are two exceptional pool cleaners that might get you into a conundrum when decided which one to choose. This dilemma is a result of the two pool cleaners having numerous common features and functions. These similarities include ease of use and require no additional tools, cartridge filters that allow for quick removal of dirt and debris, they both can scrub your pool's floor, walls, and coves, and a microprocessor technology that scans your entire pool to find the most time and energy-efficient cleaning path. Better yet, they are in a close price range and regardless of whichever machine you choose, you are guaranteed of a clean pool with crystal clear water for a healthy swimming experience.
Why is the Dolphin 99996323 the best choice for your pool?
The Dolphin 99996323 ranks at the top of the list among its contenders since it comes with many accessories that let it do an excellent cleaning job. There is a cartridge filter, power supply, and a 60-foot cable integrated with a swivel cable. It also scores high since it doesn't have any problems cleaning raised drains. And when cleaning the filters, simply turn the cleaner off, remove it from the pool, turn it upside down then open the filter locking mechanism. From here, remove your filter cartridges then remove the filters and finally clean then with water from your garden tap or hose. After you are done with the cleaning, pull them all back together again.
Features and Benefits of the Dolphin 99996323 nautilus
Has a 24 volt dual driven motor for thorough scrubbing motion
Capable of handling all pool shapes including L-shape, round, rectangle, oval, and kidney
Doesn't require a booster pump or even a connection to the pool pump filter system
Ideal for residential in-ground pools of up to 50 feet long
Can scrub your pool's walls and floor and even vacuum all the way to the waterline
Its cartridge filters come in handy to trap debris and dirt
Has a brush system capable of scrubbing any of your pools surface to prevent buildup of algae and bacteria
The patented swivel cable prevents its 60 feet long power cord from tangling
Cleans corners and other areas that most standard cleaners cannot reach
Pros
Quiet when cleaning your swimming pool
Easy to remove the filters for cleaning and replacement
Capable of climbing the wall all the way to the waterline
Has an internal pump system hence doesn't require your pool's pump and filter to function
Cons
Doesn't have a caddy for easy transportation
Difficulty cleaning very sharp pool angles
Final Verdict
If you are looking for a pool cleaner, the Dolphin 99996323 is the first name that should ring in your mind. For a cleaner pool, this machine uses brushes to scrub all types of surfaces and configurations: liner, tile or concrete. Even more, this cleaner has one-way water valves that come in handy to prevent dirt and debris from getting back into your pool. This is how easy it is to get started with this machine. Give it a shot and enjoy a healthy and fun swimming experience.