Let's say you have this gorgeous inground pool cleaner which is the crowning glory of your property and the envy of your neighbors! Friends land up in summers and you are quite sure you did not invite them! Let's also say that you are really concerned about maintaining it in a good condition, and will go to any lengths to DIY. Have you heard of the Dolphin Quantum Robotic Inground Pool Vacuum Cleaner? Yes, the Dolphin. The brand name definitely brings up images of happy dolphins leaping up from pristine ocean waters! Let this Dolphin work for you.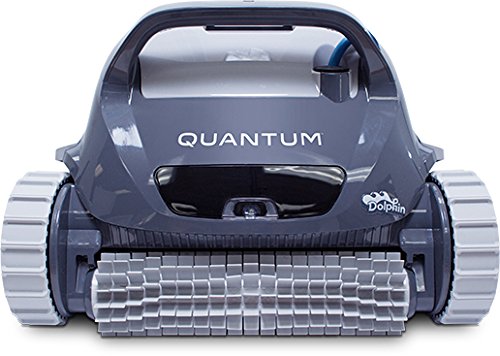 Pool maintenance is not easy. The schedule is such that weekly and monthly inspections are compulsory for it to remain a safe source of enjoyment and exercise, especially during scorching summers. What is the drill, if suppose, you have an ordinary pump to clean it out- let's go and check it out!
Weekly –
Remove accrued debris from the bottom with a scoop, remove floating debris too.
Check water level for the pump to operate
Add chlorine sanitizer and algaecide if it is necessary
Test chlorine, alkalinity (pH), oxidizer levels.
Look closely for debris
Clean those tiles which are on the water line.
Check the filter's pressure and do a backwash if it is required
Monthly check-
Test for hardness of water due to calcium and test for alkalinity
Inspect the grout, the tiles and other parts of the pool that are exposed
Check all the rails and other safety devices if they are in a working condition.
Check for cracks or tears respectively in gunite and vinyl pool walls
Get a chemical cleaning done of the filter.
Pros
Cleaning is a big part of maintenance. To make your work easier, here is a product whose functions will amaze. The main benefits of a Dolphin Quantum pool cleaner is that it does the entire job on its own – it has its own pump and filters. It has a microchip that programs the cleaning to higher levels of effectiveness and efficiency. The energy consumption and noise are negligible.
Cons
The drawbacks, one can think of are that generally it is more expensive than other cleaners,  the inbuilt filters and pumps of the robotic cleaner will have to be cleaned often. Movement is hindered by its own electrical cable. And it is a tad heavy.
Key Features of the Dolphin Quantum Robotic Pool cleaner
Its inspired PowerJet 3D Mobility with vortex jets positioned strategically and providing extra thrust, allows easy sideways movement, in addition to its climbing movement, thereby covering the entire surface of the pool.
Its micron filters are changeable. You can choose the filter for the job, whether it is to clean the pool of leaves or twigs or microscopic matter. A large cartridge reduces the number of times you have to clean the filters.
It has two scrubbing brushes which also spin twice at the speed of competing products ensure a deeper clean.
It is equipped with the SmartNav 2.0 which is the manufacturer's state-of-the-art smart navigation algorithm
The best feature in this robot is its mobility! The PowerJet 3D™ consists of vortex jets fitted at the top and the two sides of the Quantum. This allows it to move sideways effortlessly because of the extra thrust provided. For traction while climbing vertical walls, it has continuous rubber track wheels. It is also fitted out with Maytronic's SmartNav2.0 which helps it to read the dimensions of your pool and calculate the most efficient route to clean the entire pool.
It recognizes obstacles and remembers their location, so it does not get stuck at any point during the cleaning. Cleaning is of course achieved, but thorough cleaning of each and every spot, whether it be the wall, or the corners or the tiles at the water line, this robotic cleaner achieves because of its mobility. This is why Dolphin Quantum is so satisfying and ideal for a home inground pool owner.
Users Opinions about Dolphin Quantum Robotic Inground Pool Cleaner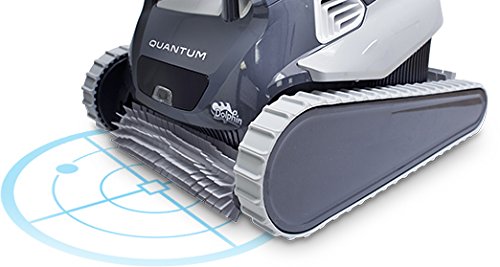 Users who had previously owned other brands had difficulty in cleaning the filters of those. For one the filters were smaller and had to be cleaned more often. The procedure for cleaning also was very cumbersome. The Dolphin Quantum's filter tray is substantially larger than others, and so it doesn't have to be cleaned frequently since it holds more dirt at any time. Also cleaning it is very easy, just opening a latch on top, pulling out the tray, rinsing out the filters while still in the tray, changing the tray and putting the whole thing back.
The access from the top is a big improvement on other models.Another user was surprised that every time he cleaned, algae showed up in the filter! This showed the thoroughness with which the Quantum cleans.  Like all robotic cleaners, this one too tends to get stuck in drains, said another user, but it quickly gets out when it senses that it is not moving ahead. This it does with the help of its PowerJet 3D ™ technology. The big container for collecting leaves is appreciated by all users. Its low energy consumption is also a big draw.
Click here to view 115+ Buyer Reviews
Performance Of Dolphin quantum– A user's story
I live in Darlington, Maryland. We moved from NYC ten years ago to this fabulous property with a 14 by 28 pool with a depth of about 2m. Though not too big, this pool was becoming a pain to manage, what with leaves and twigs falling into it all the time! (We have a heavily wooded backyard). Being a stickler for cleanliness, this extended to my pool too and most of the time that I was in it, I would be preoccupied with looking at the dirty patches and debris floating in it.
Most of my free time would be spent on scrubbing it. I had a suction pool cleaner, but would spend a lot of time cleaning out debris from the pump and filter of the pool itself. Until I saw my neighbor using the Dolphin Quantum. It seemed a quantum leap from what I had seen in pool cleaning equipment and it looked like a good investment.
It came quite promptly after I ordered it, and setting it up was a cakewalk. I plugged it in, let it down into the pool and oh boy! Did it go! Like the robot it was, it quickly assessed my pool and set about its work methodically scouring the floor and the walls eating up the debris.
The PowerJet 3-D™ feature is excellent and the dual brushes do a really clean job of the pool surfaces. My pool – a concrete one – began to sparkle almost immediately! The wire did get in the way a bit, but it righted itself. The grime on the water line which took a me good many hours to do manually, disappeared too in record time!
Related Best Robotic Pool Cleaner Reviews 2019 – Top 10 to Consider
Now I can concentrate on the other things I have to do for maintaining my pool. I have been wanting to conduct a saturation index for a while now. Maybe I will get around to doing it now. Thanks Quantum!!
Comparison of the Dolphin Quantum vs the Polaris F9450
Costing just under one thousand dollars apiece, these two robotic inground pool cleaners seem to be on par at first sight. Let us compare them on various parameters.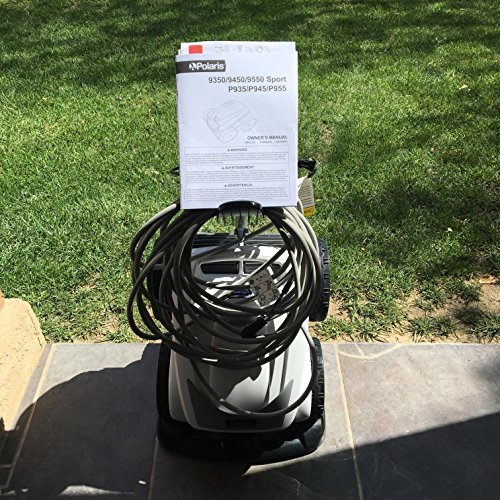 Cleaning modes – In the pool, Quantum cleans the floor, wall, waterline, climbs the steps and cleans them, while the Polaris F9450 does not do the steps because it cannot climb them, but it cleans the other areas mentioned.
Efficiency – In a study, Quantum scores 90%, while the Polaris 96%
Pool length – The Quantum can clean the length of 60 feet while the Polaris stops at 50.
Cleaning Cycles – The Quantum's normal cycle is two hours, and can be programmed to any of three frequencies – everyday, twice or thrice a week. The Polaris has a 7 day programmable timer.
Smart navigation – They can both detect obstacles and move out of their path, in other words, they both have smart navigation systems
Driving system– The Quantum drives on rubber tracks while the Polaris has a four wheel driving mechanism. This gives the Quantum greater traction than the Polaris
Brush system – The Quantum has a superior Hyper brush with a dual scrubbing system, whereas the Polaris has a pleated brush.
They both have a cable length of 60feet.
Weight wise, the Quantum is heavier by 11 pounds at 27.2 pounds.
The Polaris comes with a transport caddy and a lift system. The Quantum has neither.
They both have indicators for the dirt canister. The Quantum does not have a remote control, but the Polaris does.
The Quantum has a swivel cable while the Polaris does not.
They both come with two year warranty.
Final Verdicts
That was as far as features go. In spite of a few negatives, the Dolphin Quantum's hyper brush with a dual scrubbing system and its PowerJet3D ™ are unmatched as of today and you would be doing yourself a favor by getting one if you have not already!