Swimming pools are a great way to cool down or just the best excuse to relax and enjoy the day. But we have to note that pools are a natural breeding spots for bacteria and algae. We may not see it, but our pools are always exposed to the elements. Whether it is an inground or outdoor pool, dirt and debris will contaminate it one way or another. Like most swimming pool owners, you'd agree that maintenance is an immaculate rule.
We can hire a team of pool cleaners who can do a decent job. But let's be real, shelling out cash for a bunch of guys to do a clean-up task that you can do yourself is hurtful. This is where the HAYWARD 2025ADC will prove to you that it might just be the best tool you'll be purchasing as yet.
Swimming pool maintenance is admittedly not an easy task. But with a systematic process and the right kind of equipment, a faster and efficient clean-up is possible. This product review of the HAYWARD 2025ADC will help you make that important decision why a tool of this caliber is an imperative for a swimming pool owner.
Key Features of the Hayward 2025ADC
This is a robotic pool cleaner with a technology that's been tested for three decades and it has yet to fall short on its promises to customers. The specialized design and built-in systems are geared to perform at the highest effectiveness with very impressive efficiency. Outside of the fact that this is not a complicated pool cleaner, here are some more offered features.
Suction Side Pool Cleaners
This is essentially a vacuum cleaner that uses your main filtration pump powered by a suction system. The debris that it sucks up is returned to your pump basket. The physics here is that there is a spinning turbine powered by the pump's suction system. This is ideal for pools that get sand, dirt and some occasional leaf traffic.
Specially Designed for Inground Pools
Microscopic pores are every concrete inground swimming pool's enemy. They trap bacteria in that will affect your pool's chemical balance (pH level) which means you will be forced to use heavier filtration methods when left unattended. A cleaner like the Hayward 2025ADC is ideal for this type of swimming pools. It hasSmartDrive, apre-programmable steering system in place and is 100% effective and efficient even at 40 feet long.
AquaPilot Technology
This system allows the Hayward 2025ADC to vacuum and scrub a swimming pool's floor and walls (concrete or gunite). This kind of coverage and efficiency is still second to none as claimed by most swimming pool owners. It can scoop up any kind of debris, dirt and grime.
Powered by Your Existing Filtration System
The Hayward 2025ADC is designed to directly deposit all the debris and dirt it sucks up to the filtration system that you're already using. This allows you to save more energy because booster pumps are definitely out of the picture and you don't have to trouble yourself emptying debris bags.
Easy To Use
Because no other tool is required, the Hayward 2025ADC is ready to use in as short as 10 minutes. When you take the cleaner out, make sure the hose and the machine are both firmly attached. Put it in the swimming pool. Push it down to the bottom (make sure all the air is out). Connect the skimmer insert then adjust the decreased or increased suction power through the blue dial.
Compare Hayward 2025ADC with Dolphin 99996323 Nautilus Robotic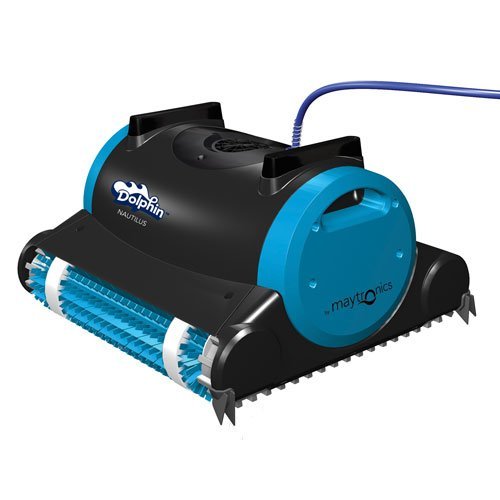 Since the Hayward 2025ADC is a top performing pool cleaner, the market houses similar products that will rival it. One of which is the Dolphin Nautilus Robotic Pool Cleaner. It also promises a thorough cleaning system. From floor to wall, the entire process is efficient, precise and satisfyingly quiet. Relatively light in weight with a distinct hydro-dynamic silhouette.
The Dolphin Nautilus can work at 50ft long swimming pools. The only difference being is that Hayward is already a household name. If this is your first time to own a pool and a pool cleaner, the Hayward brand will deliver nothing but top quality performance. It has been doing this for the past 30 years.
Both machines have a compact design going for it. You can leave it alone once it starts to do its job. The Dolphin 99996323 Nautilus and the Hayward 2025ADC are pool cleaners that will make your life a lot easier with all the programmable steering system built-in. But it's the Hayward 2025ADC that will save you the money and the energy because it doesn't need any other tool to function at a 100% effectiveness.
The Dolphin 99996323 Nautilus is higher priced simply because it is a newer brand. It uses almost all the similar technologies that inground pool cleaners have and performs at a better quality as claimed by users who purchased it. But the Hayward 2025ADC has a lower price range and can do the same task with the same quality. Yes, it will wear and tear in time, but even replacing the parts will not cost you as much.
Related Best inground automatic pool cleaner: Top 10 to Choose from
What We Like
The easiest pool cleaner to use.
Clean streaks will be immediately seen once it starts working.
It is very quiet for the most part.
SmartDrive System makes the cleaner do precise and systematic left and right turns.
No assembly required out of the box.
Powered by Turbine Technology
It can also work with pebble tek swimming pools.
No other equipment is needed (like booster pumps).
Teenagers can learn to operate it
Designed to work well with existing equipment.
Goes all up the way to the wall and at the entire length of the pool with no hiccups.
This unit uses less suction power than the models before it.
What We Don't Like
Hose entanglement.
Cleaner parts need to be replaced occasionally.
Stuck leaves will affect suction power.
Gets jammed up by rocks and acorns.
What others are saying about Hayward 2025ADC
Customers, some are first-time swimming pool owners, say that the Hayward 2025ADC works really great. For the most part, this pool cleaner their most effective yet and user-friendly.
Long-time swimming pool owners give this robotic pool cleaner an excellent 8 out of 10. Replacing parts from time to time can get annoying but is still beats manually vacuuming the pool's floor and walls.
Click here to view 195+ Buyer Reviews
Why you should consider Hayward 2025ADC Pool Cleaner?
Ideally, swimming pools need to be cleaned every day. Dirt, dust, sand, bacteria, microorganisms—name it—these things will gather in time and contaminate your swimming pool. Then again, which one of us has the time for this kind of maintenance work? Hiring people is a top option, but it is costly. TIME is the only factor the needs to be considered. The task is doable, it just needs time to be devoted to it. Hayward 2025ADC not only gives you the TIME to get your pooled cleaned, it cleans your pool in high quality performance that will leave you satisfied.
Backed with 30 years of guaranteed top quality performance, the Hayward 2025ADC is the definitive go-to of robotic swimming pool cleaners. It is at the top of its class, and with its positive track record, it will continue to be so for many more years. We highly recommend getting one for yourself to experience the hassle-free, accurate and efficient cleaning system this machine prides itself of.
Related 15 Best Pool Cleaner Reviews – A Complete Buyer Guide