If you have a large pool and you find it hard to maintain it, it's probably time to get a robotic pool vacuum cleaner. The Dolphin Triton PS can take care of your pool so you can enjoy clean, filtered water day after day. The Dolphin Triton PS is an automatic robotic pool cleaner that comes with impressive features. Find out if it's worthy enough to be used on your large pool.
Noticeable Features of this Robotic Pool Vacuum
With PowerStream mobility for constant grip on pool walls, waterline, and various obstacles

With large top-loading filter basket

Cleans circulating water quickly

Saves 8x more energy

Easy to use on any size pool

Lightweight to carry around

Designed for in-ground pool cleaning

With a weekly cleaning scheduler
Key Features of the Dolphin Triton PS
Good scrubbing power
This pool cleaner comes with the Dolphin's PowerStream technology. This is a unique feature that helps the pool cleaner to grip the pool walls and all other vertical surfaces with ease. It can scrub your pool tile after tile without miss even on irregular areas and obstacles.
Large top-loading filter basket
The top-loading filter basket helps trap leaves, debris, and dirt well. This is a large basket that can keep a large amount of debris ideal for huge residential pools. And the fact that it loads the basket on top, it is easier to remove the trapped dirt from the pool cleaner. You don't even have to remove this from the water to remove the filter.
Saves 8x energy
The Dolphin Triton PS is a pool cleaner that saves power. Compared to ordinary pool cleaners, suctions and pressure cleaners, it is energy efficient. It can clean a standard-sized pool in just 2 hours.
The fact that you don't have to manually clean your pool using brushes and sponges makes this a good idea. No more tiring pool maintenance week after week.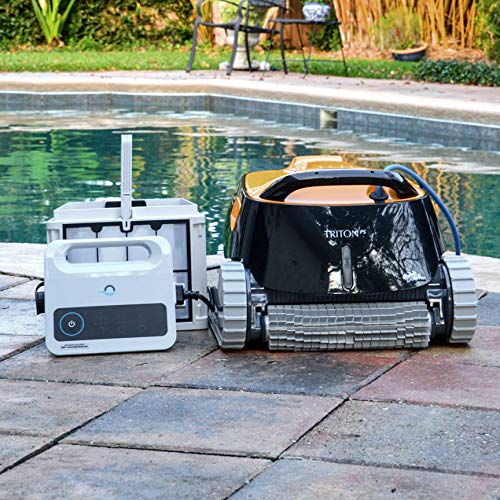 Schedule your cleaning with ease
A unique feature of most updated Dolphin robotic pool cleaner is the weekly scheduler. So you won't forget to clean your pool, you can schedule a daily, every other day or every third-day cleaning. This pool cleaner will automatically remember the schedule and move on its own to clean the pool.
Lightweight and easy to use
This is one of the lightest pool cleaners at only 16.5 pounds. You can move it wherever you need to start cleaning without breaking your back. All it takes is one button to power on this pool cleaner and it's ready to clean. Meanwhile, the long, easy to move cord allows you to clean your pool without the cord tangling.
More value for your money
You'll get more value for your money because it comes with a 2-year quality assurance guarantee. The parts, filters and other accessories are easy to purchase online or from a local distributor.
What Users Are Saying About the Dolphin Triton PS?
Users have a lot of good comments about the Dolphin's large cartridge filter. The fact that this is accessible from the top makes it ideal for this kind of pool cleaner. Most agree that this is a good robotic cleaner for an in-ground pool because it cleans well without missing an inch.
Many were mind-blown about the weekly scheduler because they don't want to bother about keeping their pool clean. They said that it was like having a professional cleaner take care of their pool for them. The scheduler takes care of pool maintenance and since this robotic cleaner is easy to maintain you can clean any kind of pool with ease.
Another feature that users find handy in the Dolphin Triton PS is the good traction. Compared to other pool cleaners, this has traction wheels, tank-like wheels, which can grip the pool walls better. This can move through different obstructions and over walls and flooring with ease because of this pool cleaner.
Compare the Dolphin Triton PS vs. Dolphin Nautilus CC Plus Automatic Robotic Pool Cleaner
The Triton PS and the Nautilus CC plus pool cleaners come from the same manufacturer and hence share a few features. Both come with efficient wheels, good scrubbing features, and the weekly scheduler. Both robots are easy to use, will require less to no supervision at all.
But the most noticeable feature is that the Nautilus CC is heavier, larger and yet sleeker compared to the lightweight but bulky Triton PS. The Triton weighs only 16.5 pounds while the Nautilus CC weighs a heavy 19 pounds.
The Triton PS can clean waterlines with its powerful grip and traction while the Nautilus CC is only for pool walls and floors only. Therefore, if you want a thorough clean of your pool walls, floors and waterline then the Triton PS is your choice.
Disadvantages of the Dolphin Triton PS
The Dolphin Triton PS has an impressive lineup of features as well as unique characteristics but there are also some disadvantages to its use. First, it does not have a cord swivel function which is important if you have a long cord.
Despite being able to schedule daily, every other day or third-day cleaning, there is no quick clean feature. Some say that despite the powerful suction, they still find uncollected leaves and other large debris on the pool.
Final Verdict
The Triton PS is one of the most updated best Dolphin pool cleaner. It has efficient features such as improved scrubbing, larger loading filter cartridge basket, and improved traction. This robotic cleaner is one of the "set and forgets" pool cleaners with a handy weekly scheduler.
The Triton PS saves power with its efficient features. It does not require booster pumps or additional hoses to work. But despite these advantages, there are also some flaws which you must consider.
And despite these flaws, we think that the Dolphin Triton PS is a good robotic pool cleaner to use. If you think that this Dolphin pool cleaner is the ideal one for you.