It is one thing to have a swimming pool installed in your home compound, and it is another to maintain it. And so, the big question comes in, do you have what it takes to keep your pool clean at all times? If you don't, then the no other than the Hayward TigerShark QC RC9990GR is a superior and efficient automatic pool cleaner that will clean your pool just the way you want.
One of the biggest pluses of this machine is that is very tenacious in even the most disgusting and abandoned swimming pools. It quickly and easily takes care of silt and debris leaving your pool sparkling clean. And featuring 2 cleaning programs, this robot will ensure your pool is clean in about 3 hrs.
The RC9990GR is designed to clean in-ground pools and comes with 55 feet long cord which ensures that all parts of your pool are thoroughly cleaned. The greatest thing that you will love about this pool cleaner is that all you have to do is just plug it in, turn it on and then place it in your swimming pool. Then wait for it to do all the dirty work for you.
With this machine, you will most definitely love how easy it is to keep your pool clean all year round. Besides, it is a good way to save you both time and money, thus making it an excellent piece of an appliance to invest in.
Features and Benefits of the Hayward RC9990GR
The Hayward TigerShark has a high impact ABS construction for toughness, impact resistance as well as a wide temperature range
Has an on-board microprocessor that maps and calculates the size of your pool to adapt the most energy efficient cleaning pattern
It uses wheel brush to scrub the pool surface and the on-board pump to vacuum trapped dirt in the cartridge filter
Comes with a removable and a re-usable cartridge filter that makes the cleaning and maintenance process easy
The patented quick to clean technology ensures a reliable and speedy cleaning cycle
The Hayward TigerShark is cost and energy effective as it uses a 24-volt motor.
Cleaning process is quite easy, thanks to the patented filter cartridge system
Comes with a 1-year warranty on labor and parts
Pros
Easy and straightforward to use and operate
Allows you to clean cartridges with much easy
It is both time and energy efficient
Comes with a convenient shut-off feature for automatic shut down after an hour cleaning cycle
Cons
Some complained that the instructions lack detail and also that the warranty is too short
What makes Hayward RC9990GR pool cleaner the best in the market?
One of the features that place the Hayward RC9990GR at the top of the list when compared with its contenders is the patented quick clean technology. This technology ensures a reliable and fast cycle of about 2 hours. There is also an astounding on-board pump that comes in handy to suck up all the debris and dirt across your pools coves, floor, walls and waterline. Even better it uses a powerful motor which is securely sealed in a watertight, high impact polypropylene housing. Aside from that, it runs on a 24V Dc with an auto-shut off and overload protection monitoring.
When it comes to cleaning, it is as easy as a walk in the park. Having an easy to clean cartridge filter system, all you have to do is just rinse it with your home hose. It could not be any simpler!! Moreover, RC9990GR is the first robotic pool cleaner to boast of a reinforced cartridge element.
You will not even incur the cost of buying extra add-on such as pumps, hoses or hook ups since this machine doesn't require that. In fact, it does all of its tasks automatically. It even operates separately from your pool filtration system and in turn resulting in less backwashing.
What are users saying about the Hayward TigerShark QC RC9990GR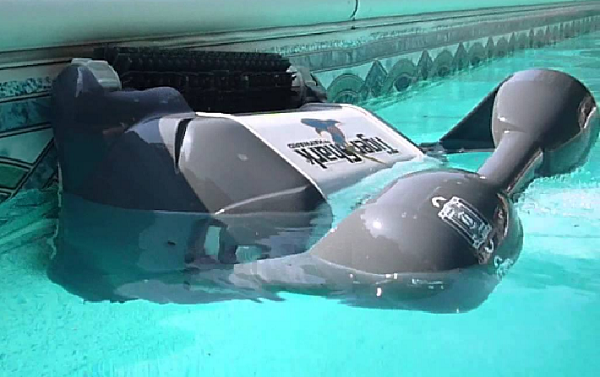 Users who bought this machine highly appreciated its abilities to easily and quickly clean their pool without having to operate it manually. The RC9990GR is also capable of climbing the walls thus ensures that all parts of your pool are brushed and cleaned to result in crystal clear water. Users were also happy that all of its components are included hence you don't need to assemble this appliance. The 2 cleaning systems was another feature that was warmly received. Users said that it provides an easy setup mechanism that allows you to let the machine work according to your specific needs and preferences. Also, the quick clean is a great option that lets you speed up your cleaning process.
However, some users had some reservations about the RC9990GR. They said that it focuses a lot on deep end of the pool hence not all parts of their pool are sufficiently cleaned. Even so, the cleaner does a fantastic job and along with a remote control, it solves your problems the best way it can.
Click here to view 337+ Buyer Reviews
Why I fell in love with this machine
The RC9990GR has been my favorite pool cleaner for years now. I particularly like this machine for its automatic settings and the quick clean function. Its automatic options enable this device to scan then map the exact size of my pool. With which it is used to determine the most energy efficient cleaning route without compromising the cleaning results. And if I choose to use the quick clean option, this machine will also clean in the shortest time possible depending on the shape and size of my pool.
For the fact that my pool is residential sized, this pool cleaner works optimally leaving it sparkling clean. Aside from the sophisticated mapping system, the Hayward TigerShark comes well packed with a 3-hrs cleaning cycle after which, the cleaner automatically shuts off. I even don't have to worry about cleaning every part of my pool because with this appliance, my pool's steps, floor, and even sides are well taken care of.
Comparison overview between the Hayward RC9990GR and the Polaris Vac-Sweep 280 Pressure Side Pool Cleaner
With both of these machines, you will enjoy the easiness of cleaning your swimming pool at your convenience and without much effort in just 3 hours. These devices work smartly and intelligently to remove all the dirt and debris from your in-ground pools. The Polaris 280 easily and quickly integrates with a dedicated pressure line that enables it to scrub, vacuum and sweep all types of configurations and any surface while the Hayward TigerShark uses a wheel brush to scrub the pool surface and the on-board pump to vacuum trapped dirt in the cartridge filter. Regardless of whichever pool cleaner you choose, you will sure enjoy a clean and healthy swimming experience.
Is the Hayward TigerShark QC RC9990GR worth your money?
Well, the Hayward TigerShark is not one of the cheapest pool cleaners out there, but it is a good value for your money. Let me explain. Among the robot pool cleaners world, this is the most reliable and highly rated appliances. In fact, the Hayward cleaners are best known for their outstanding performance and durability. Thus, although there are inexpensive options available, it is good to keep in mind that some have a short lifespan. But with the Hayward TigerShark you are guaranteed of an energy saving cleaning process that will, in turn, help you save on the much more needed finances.
Final Thought
The RC9990GR is a pool cleaner that does a full cleaning cycle for 3 hours after which it automatically shuts down. When it comes to cleaning, you will not have difficulty, thanks to its removable filters. Although it comes at a high price point in the market, this is well complimented by its rich feature set. And buying the RC9990GR, you will never regret it.