As an Amazon Associate we earn from qualifying purchases.
A small and robustly designed pool cleaner, the Hayward PHS41CST AquaNaut Suction Pool Vacuum Cleaner is designed to clean pools of all terrains and sizes. With its modern mechanisms and top-notch suction capabilities, you can rest assured that your pool will remain clean and pristine.
It offers flawless cleaning and is easy to set-up and use. The AquaNaut 400 is designed to efficiently clean pools with varying sizes and shapes. The 4-wheel drive technology ensures that it effectively cleans both the shallow and deep ends of the pool in no time.
Key features of the Hayward PHS41CST AquaNaut Suction Pool Vacuum
Can Expertly Navigate All Pool Terrains
The AquaNaut 400 features sticky and high-grade wheels with patented tire treads. This helps it navigate all obstacles and inclines that may come in its path. The 4-wheel drive technology ensures that the pool cleaner provides consistent coverage and cleaning even at the deep end of the pool. The robust tire treads provide superior climbing power allowing it to skill-fully manoeuvre all terrains, including cleaning up to one foot high of the walls of the pool.
Cleans Debris Of Varied Sizes Without Clogging
The AquaNaut 400 is capable of picking up large amounts of debris without clogging or getting stuck. The cleaner features self-adjustable variable vanes that allow debris of varying sizes to pass through the cleaner. This mechanism, called the v-flex technology, is patented by the company and offers maximum power at any flow. Be it dust, muddy sediments, leaves or even the roughest and toughest debris, the pool cleaner expertly cleans up the surface of the pool. 
Optimal Suction At All Flow Rates
The AquaNaut 400 comes with three interchangeable throats to handle the cleaning of pools with varying flow rates. It is uniquely designed to navigate and clean pools with variable speed pump technologies. Choose from the three throats based on the type and size of the filtration system in the pool.
Effectively Navigates Through Obstacles
Pool floors often contain obstacles such as main drains, pebbles and more. The AquaNaut 400 is fitted with patented adjustable roller skirt ensures that allows it to provide consistent suction despite irregular surfaces and obstacles. Additionally, the 4-wheel system helps the pool cleaner maintain balance while navigating larger or more inclined pools. 
Never Worry About It Getting Stuck
The Hayward PHS41CST AquaNaut Suction Pool Vacuum is set up with multiple pre-planned steering sequences and turn cycles, enabling it to effectively clean pools of all shapes, sizes, and terrains without getting stuck. It expertly navigates pools that are 8ft and deeper. The tires feature a thumb that keeps it from getting stuck in any anti-vortex main drains.
Pros
The V-Flex technology enables it to pick up debris of varying sizes with maximum suction

The rubber tire treads can be replaced when they wear down from regular use

It has a self-clean swivel on top and comes with three easily interchangeable suction inlets

The AquaNaut 400 is capable of cleaning the walls of the pool

It comes with 40 one feet connector hoses that enable the cleaner to easily navigate 31′ and down 9′ deep in both directions of the pool
Pros
It cannot climb stairs

The wheels of the cleaner can come off after extensive wear

It may take time to clean the pool in high-pressure settings
What users saying about the Hayward PHS41CST AquaNaut
Most customers who have used the AquaNaut 400 agree that it offers exceptional coverage and effectively collects large quantities of debris. Customers were impressed with its ability to navigate larger pools and clean up mud and debris the collects in the pool due to muddy rainwater, leaves and strong winds.
Some customers faced trouble with the wheels of the cleaner and reported that the rubber tires wore off after a while. However, the company provides a two-year warranty on the AquaNaut 400, allowing you to fix all such issues.
Click Here To View 257+ Buyer Reviews
Compare AquaNaut 400 vs. Zodiac MX6
The AquaNaut 400 and the Zodiac MX6 are among the most highly rated pool cleaners in the market today. Both pool cleaners offer exceptional coverage and balance with a 4-wheel setup and work effectively in pools with variable speed pumps. However, there do exist a few differences between the two models.
The Zodiac MX6 Baracuda Automatic Suction Inground Swimming Pool Cleaner features a cyclonic suction that provides powerful vacuuming. This combined with the articulating turbine blade gives it aggressive wall-climbing capabilities.
On the other hand, AquaNaut 400 makes use of patented V-Flex technology to navigate all flow rates and terrains.
Both pool cleaners are equipped with top-notch suction capabilities. The AquaNaut 400 offers a two-year warranty whereas the Zodiac MX6 offers only a one-year warranty.
What's the disadvantage of the AquaNaut 400
Although most customers agree that the AquaNaut 400 offers premium pool cleaning service, it does have a few disadvantages. For example, it does not provide as much coverage for the pool walls. Currently, it does not clean more than one foot high and it cannot climb stairs either.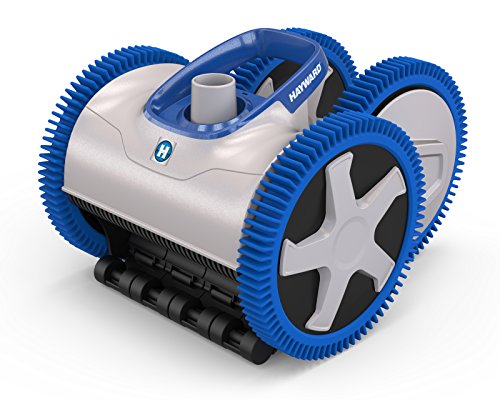 Some customers have also faced issues with finding replacements for the rubber wheels. While it is possible to get it serviced and replaced during the warranty period, customers may find it difficult to find replacement parts once the warranty has expired.
Final Verdict
If you have a medium sized or large pool, the Hayward PHS41CST AquaNaut is one of the most effective best suction pool cleaners that you can use. Its numerous advantages and modern mechanisms have made it a popular choice among customers.
The tire treads give it a superior grip and allow it to navigate and clean all pool terrains effectively. The v-flex technology enables it to collect debris of all sizes without clogging up the system. It also provides mechanisms to clean pools with variable speed pump technologies.
The Hayward PHS41CST AquaNaut Suction Pool Vacuum cleans tight corners and deep pools without getting stuck. Although it does not clean the walls of the pool, it provides consistent suction and adaptable mechanisms that make it a popular choice among many.
Amazon and the Amazon logo are trademarks of Amazon.com, Inc, or its affiliates.